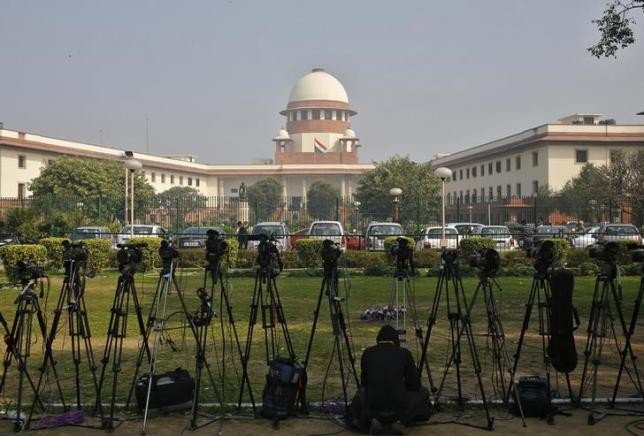 The Supreme Court agreed Monday to hear a Muslim woman's petition seeking to declare triple talaq and polygamy in Islam unconstitutional despite strong opposition from Islamic boards. The apex court also asked the Centre to file in six weeks its response to the woman's petition as well as an existing report from a high-level committee on the effect of family laws on women.
Shayara Bano from Uttarakhand had filed a plea with the Supreme Court as she was divorced after 13 years of marriage through the triple talaq system. Along with her petition, the Supreme Court took up suo moto proceedings it had initiated on the state of Muslim women, and agreed to hear the All India Muslim Personal Law Board (AIMPLB). The board, in its application, was quoted by LiveLaw as saying that Muslim personal laws, which are interlaced with Islam, are a matter of freedom of conscience ensured under Article 25 and 26 read with Article 29 of the Constitution.
"Muslim women have been given talaq over Skype, Facebook and even text messages. There is no protection against such arbitrary divorce. They have their hands tied while the guillotine of divorce dangles perpetually ready to drop at the whims of their husbands who enjoy undisputed power," the Times of India quoted Shayara Bano as saying in her petition.
Chief Justice T S Thakur and Justice UU Lalit told Additional Solicitor General Tushar Mehta Monday to file the report "Women and the law: An assessment of family laws with focus on laws relating to marriage, divorce, custody, inheritance and succession," which was submitted to the Union Ministry of Women and Child Development last year by a UPA government-appointed committee, along with the Centre's response. In submitting the report, it will be made public. The bench also asked National Commission for Women's counsel Aparna Bhat and Shayara's husband to submit responses to the petition.
The report apparently recommended banning triple talaq and polygamy, as well as amendments to Dissolution of Muslim Marriages Act, 1939.
"The practice of triple talaq practically treats women like chattel... many Islamic nations including Saudi Arabia, Pakistan and Iraq have banned or restricted such practice but it continues to vex Indian society in general and Muslim women like the petitioner in particular, [sic]" Shayara was quoted as saying TOI.