But guess what? She decided to wear the exact same look for HT Most Stylish Awards 2018. Deepika won the India's Most Stylish (female) award, but why did she repeat the same saree, jewellery and the entire look?
Is it because of Padmaavat fever or she actually has no stylist these days? On January 23, she was spotted wearing the same anarkali traditional suit for Padmaavat screening that she wore during Chennai Express promotion. 5 years old look and cosecutively now, she repeated her silk saree that she wore in November 2017.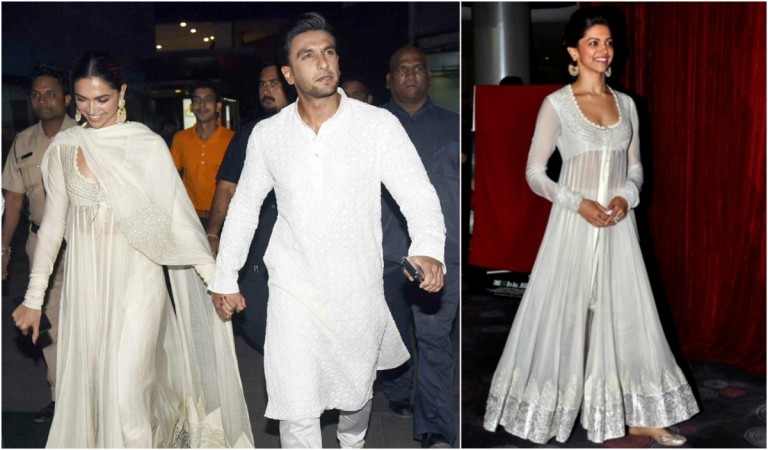 This is not the first time Deepika made headlines because of her fashion choices. She has repeated her outfits earlier as well.
Talking about her latest release Padmaavat, which hit the theatres on January 24 and will release worldwide on January 25, is spectacular.
International Business Times, India reviewed and gave it a 4.5 star rating and said: "Oh boy! Deepika Padukone is a beauty and her eyes are to die for. How is she so graceful? She's so powerful in every frame. Her portrayal of Rani Padmini is one of her best works. It is visible on screen how she had thrown herself into this role. Oh, that climax! Stunning. I had tears in my eyes. It's an epic film. A visual delight not to be missed. Travel to other cities and watch this if need be!"
At the HT Most Stylish Awards, Deepika while talking to the media said: "We are very very excited for the release of the film tomorrow. It's a big day for all of us. It's extremely overwhelming, extremely emotional and I am very excited, because like I said the film has been through so much. On behalf of the entire film, we want to thank all of you (media) for being so supportive through everything we have been through. Now, it's time for us to celebrate and see the film do wonders at the box-office now."
"I think there is a time for everything, the film has spoken for itself. The reactions to the film have been absolutely phenomenal. That is the best response we can give to anyone through the work that we do. We are very very excited about the release tomorrow. We are extremely overwhelmed. I am very emotional at this point. Like I said, it's time for us to celebrate."
"I am not someone who has ever been excited about the box-office numbers, but I have to say that this time I am because I think it's going to be earth-shattering," the actress concluded.