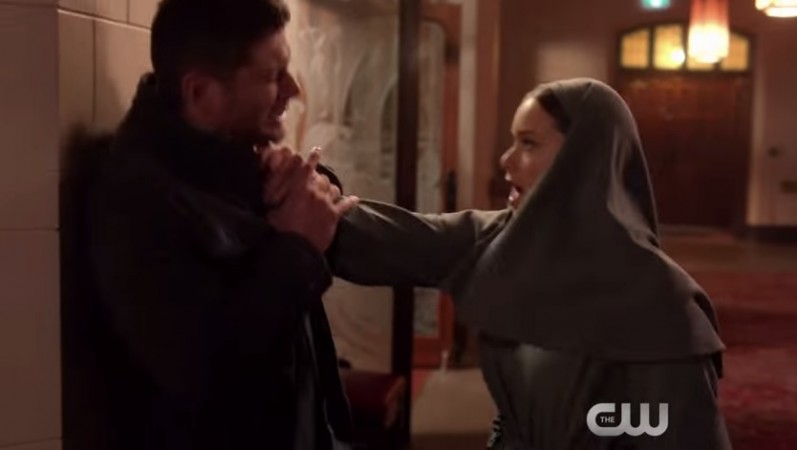 The CW will air season 10 episode 16 of "Supernatural" on Wednesday, 25 March. After saving a foe-turned-friend Cole (Travis Aaron Wade) from the Khan worm in "The Things They Carried", the Winchester brothers are now set to destroy whatever is killing the parishioners of a Catholic church in "Paint it Black". Meanwhile, Crowley's (Mark Sheppard) mother Rowena (Ruth Conell) is trying to get back on the good side of the Grand Coven of witches.
Sam (Jared Padalecki) and Dean (Jensen Ackles) have a new case on their hands, when a bunch of people going to the same Catholic church and confessing their sins to the same priest commit suicide. A "slow, self-administered disembowelment" is the common factor in every suicide.
The hunters first doubt the priest (Stephen Daniel Curtis) who has heard each of their sins to be the monster who either prompts the victims to kill themselves, or kill them and make it seem like they committed suicide. In the promo, Dean is even seen confessing to have sex in an attempt to find how he chooses his victims.
However, it seems like the "hot" nun that Dean has taken too fancy, is the real monster.
Meanwhile, in hell, Crowley, who is now completely enchanted by his mother, has called Olivette (Teryl Rothery), the leader of the Grand Coven, to visit him. Rowena pleads her case to Olivette asking her to allow her to practise magic freely again.
Rowena, who was first introduced in "Soul Survivor", is a natural witch, in that she was born with magic. However, she was banished from the Grand Coven because her magic was deemed "too extreme."
Will she be able to convince Olivette and if so, what does that mean for the Winchesters? Even without the approval from the Grand Coven, she is extremely powerful. Moreover, her intentions with Crowley doesn't seem to be altogether clean; will she abandon him again, if she gets her full powers back?
Watch out for season 10 episode 16 of "Supernatural" titled "Paint it Black" on 25 March, Wednesday, on The CW.