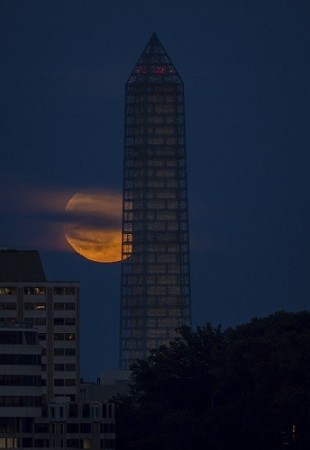 Star gazers and astronomy enthusiasts across the world were in for a treat when the supermoon arrived on Sunday illuminating the night sky.
The supermoon occurs when the moon reaches its closest point to Earth, which is also known as the perigee full moon. The effect of a supermoon is most noticeable when it occurs at the same time as the full moon, said Jim Garvin, chief scientist at NASA's Goddard Space Flight Center.
There are three full moons in 2013 - May, June and July. But the supermoon that arrived on 22 June - 23 June is the biggest and the brightest of all supermoons, according to Earthsky.
The term supermoon was coined by astrologer Richard Nolle some 30 years ago, but came in usage just a few years ago. According to NASA, this month's supermoon was up to 14 percent bigger and 30 percent brighter than a normal full moon. The moon was located at its closest distance of around 360,000 km away from Earth.
While many witnessed an almost full moon on Saturday, the supermoon officially arrived at about 7 am Eastern Daylight Time on Sunday morning.
On 7 July, the moon will be at the farthest point from Earth (apogee) at 4,06,491 km. The next closest approach of the moon will occur on 10 August. 2014, when it will be located at a distance of 356,896 km from Earth.
"More often than not, the closest perigee of the year comes on the one day of the year, that of the full Moon. This time period is equal to about 1 year, 1 month, and 18 days. The full Moon and perigee will realign again on August 10, 2014, because it is the 14th full moon after the the 23rd June, 2013 full moon," Professor S N Jaffery from Mohanlal Sukhadia University in Rajasthan was quoted as saying by UdaipurTimes.com.