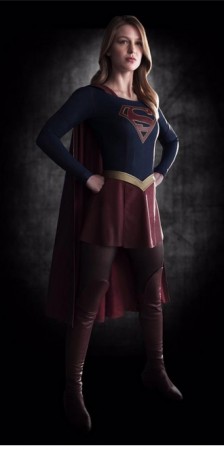 Within a couple of week after the SuperGirl trailer release, the pilot episode of the upcoming CBS TV series has been spotted in two popular torrent sites. Available for download through ETTV and DiMENSION torrent distributors, the videos are offering stunning resolution and come without watermark.
The IBTimes had earlier reported that the high resolution and the missing resolution speculates the pirated video upload haven't been done by any critic or blogger since every critic copy carries a unique watermark with the supplied video. A Forbes report speculated that both the pilot print might had been uploaded by the maker CBS itself leaked both the SuperGirl episodes 6 months earlier of its release for keeping the buzz alive.
The TorrentFreak reports two release groups -- DiMENSION and LOL (an ETTV subsidiary) -- competed to premiere the episodes on the internet. Both the sites launched the videos with a gap of 90 seconds with each other. While the LOL's first pilot edition file is 400MB in size, the other one was 15 times heavier to impress the high-resolution loving downloaders.
Once the first episode triggered over the internet, almost 1,20,000 users downloaded the file within a span of 6 hours.
Incidentally, both the torrent distributors have also leaked a 1080p quality episode of NBC TV Show Crowded. The episode is of 22-minute duration.
All these happened while another renowned torrent site EZTV has been closed down forever. Following a police raid, EZTV was finally decided to be shut down after the piracy site got exposed to some hackers.