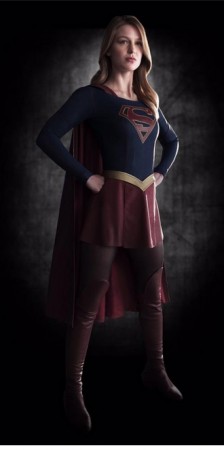 After seemingly trying to dodge the "Supergirl" TV series, CBS has finally added the superhero drama to the 2015–16 television season. The series, based on the DC comic book series "Supergirl", will revolve around Superman's cousin Kara Zor-El or Kara Danvers, as humans would know her.
Greg Berlanti, who also helped create "Arrow" and "The Flash" on The CW, is the execute producer for "Supergirl". "Arrow" and "The Flash" are also based on DC comic universe superheroes. The titular role will be played by the "Glee" alum Melissa Benoist. "Supergirl" is a 24-year-old Kryptonian who has been hiding her superhuman powers for her entire life.
Although the air date of the show will only be confirmed next week, it will come out sometime in 2015.
Wasp, Jessica Jones and Other Female Superheroes that Prove Marvel CEO Ike Perlmutter Wrong
Here is the list of cast members who have been confirmed to star in "Supergirl" on CBS.
Supergirl (Melissa Benoist)
Born Kara Zor-El, the 24-year-old Kryptonian who has been hiding her strength all her life was forced to reveal it due to an unexpected disaster, setting her on a journey of heroism. Having taken her foster parents' surname, she is known as Kara Danvers to humans. She works as an assistant to Cat Grant, the founder of media conglomerate Catco.
James Olsen (Mehcad Brooks)
Jimmy works as a photographer for Catco in National City and is the primary love interest for Kara.
Cat Grant (Calista Flockhart)
She is the founder of media conglomerate CatCo and a love interest for Superman, according to the comic books. It is not known whether this storyline would be traced by the creators of the CBS series.
Hank Henshaw (David Harewood)
Hanshaw is a former CIA agent who heads the Department of Extra-Normal Operations (DEO) and is worried that Supergirl's otherworldly abilities will pose a threat to humanity.
Alex Danvers (Chyler Leigh)
Alex is Kara's foster sister and a doctor who works for Henshaw at the DEO. She is also interested in learning everything she can about Kara's Kryptonian culture.
Vartox (Owain Yeoman)
Vartox is an alien convict who has been hiding on Earth for about 12 years. But when he hears about emergence of "Supergirl", he demands a battle with her.
Toyman (Jeremy Jordan)
Winslow Schott, a tech expert who works with Kara at Catco is the cover for Toyman, a Supervillain from the DC Universe. He generally uses toy-based or toy-themed devices and gimmicks such as life-sized wind-up tanks, acid-spraying water pistols, and toy soldiers that carry real guns to carry out his crimes. Although the character is signed on as a guest role, his comic book persona suggests that Winslow could also be a recurring character.
Alura Zor-El (Laura Benanti)
Alura is Kara's birth mother who guides her in the journey towards becoming "Supergirl". Alura is a recurring character in the series.
Helen Slater, who portrayed "Supergirl" in the 1984 film, and Dean Cain, who played Superman in "Lois and Clark: The New Adventures of Superman", have been cast as Sylvia and Fred Danvers, the foster parents of Kara.
Meanwhile, some characters unknown to the comic book world have also been introduced in the series, like Hayashi, which will be played by Derek Mio and Yale, portrayed by Paul Stuart. Both the characters are reported part of the pilot and might only have minor roles, or at best recurring ones.