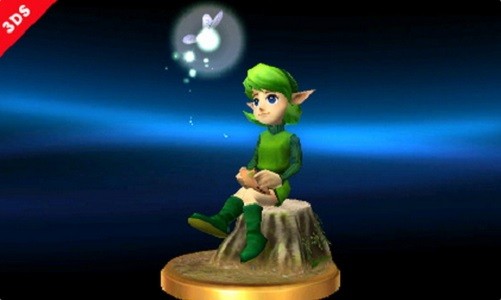 Super Smash Bros. 4, the upcoming fighting video game from publisher Nintendo, will receive a platform-specific trophy system, revealed Masahiro Sakurai, creator of the Smash Bros. series, on Miiverse.
Sakurai noted that Super Smash Bros. 4 will have separate trophy systems for Nintendo Wii U and 3DS consoles. This will give players on both consoles different set of trophies which have to be unlocked.
He also noted that trophies will be in relation to the hardware. The Wii U will be seeing trophies that will have characters from other Nintendo home-console games, while the 3DS trophies will be from other Nintendo handheld games.
Sakurai posted on Miiverse: "There will be trophies in the 3DS and Wii U games, and each version will boast different types and models. The 3DS trophies will be mainly from handhelds and the Wii U version will feature trophies from the home-console games." He also revealed an image of a Saria trophy.
Previously during E3 2013, Sakurai had also revealed that there would be different stages of game in both consoles, depending mainly on the platforms' origin. Though the game will be unique on both consoles, Sakurai had promised that players from both consoles would be able to link up and interact. No information or details on how this would happen was given out, Game Rant reported.
Nintendo has not yet confirmed the release date for Super Smash Bros. 4 but all we know is it will have exclusive launches on Wii U and 2DS, sometime in 2014.
King Dedede Confirmed
King Dedede, who is the archrival of Kirby, has been confirmed for Super Smash Bros. 4, reported CVG.
King Dedede is known for his defensive characteristics and was a hard one to knock out in Super Smash Bros. Brawl. He will be joined by other characters like Luigi, Captain Olimar, Sonic, Princess Peach and Toon Link.
New characters will include Capcom's Mega Man, Animal Crossing's villager, Wii Fit Trainer, Super Mario Galaxy's Rosalina and Luma.