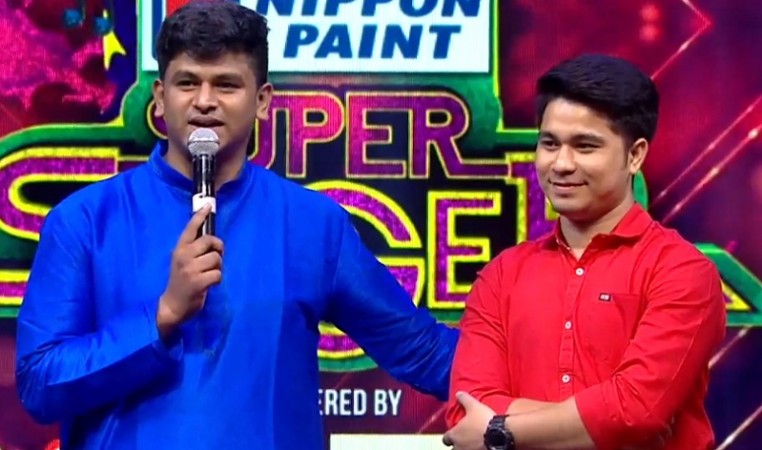 The stage is set for the first elimination in Vijay TV's Super Singer 6. Budding talents like Vinay and Sunny are in the danger zone and one among the two will end their journey on Saturday, February 10.
Based on their marks, the singers from Red and Blue teams were nominated for the elimination last weekend. "I am not a trained singer and using this stage to improve my skills. So, I request the people to cast their votes for me, " said Vinay who requested the public while explaining why they should save him.
As for Sunny, he said that he is not a Tamilan and does not know the language. Yet he is attempting to learn and sing the Kollywood songs. He cited this reason for the audience to save him this week.
Online surveys conducted by websites and social media sites clearly indicate that Sunny is going to be safe this week. The viewers apparently want him to give one more opportunity as he has tried to sing Tamil songs despite his non-Tamil background.
In this season, contestants are divided into two teams. After the completion of every round, the four judges would announce the marks. However, the losers would not be pushed to the danger zone.
The participants with the least marks in both the teams are likely to be pushed to the danger zone.
Anirudh, Senthil Kumar, Rajalakshmi, Greeshma, Praveen, Ashwin Sharma, Mohamed Naseer, Ajay Krishna, Malavika, Sreelakshmi, Sakthi, Sreekanth, Keshav Vinodh, Sridevi, Jayanthi, Rakshitha, Sireesha, Aparna, Sudharshan, and Viji are the other contestants of Super Singer 6.