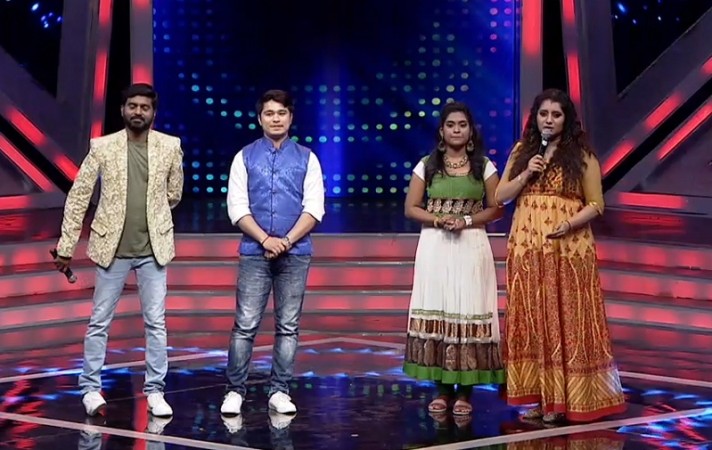 Vinay is the first contestant to be eliminated from Super Singer 6 after Sunny Parivar was saved by the audience. However, his happiness was short-lived as he was pushed to the danger zone one more time along with Sreedevi.
The contestants of Super Singer 6, which is judged by Unni Krishnan, Anuradha Sriram, Swetha Mohan, Benny Dayal, are divided into two different teams – Red and Blue. Every contestant will compete with a singer from the opposition side. However, the losers will not be pushed to the danger zone, but the participants with the least marks in both the teams are considered for the nomination.
The name of Sunny was suggested by Anuradha Sriram as she felt that he is enjoying good support from the viewers after being saved by viewers last week and might turn safe again.
Rakshitha got a standing ovation for her performance by earning 34 marks out of 40 as she received the Golden Voice of the Week award along with a prize of Rs 10,000. The previous week, Senthil Kumar had won the award.
The Sunday episode had the presence of Action King Arjun, Aishwarya, and Chandan Kumar, who took the stage to promote their movie Sollividava.
Here is the list of contests played during the weekend.
| | |
| --- | --- |
| Contests | Winner |
| Greeshma vs Sireesha | Greeshma |
| Naseer vs Rajalakshmi | Nasser |
| Praveen vs Sunny Parivar | Praveen |
| Ashwin vs Keshav | Keshav |
| Aparna vs Malavika | Malavika |
| Sakthi vs Sreekanth | Sakthi |
| Rakshitha vs Sreedevi | Rakshitha |
| Vijayalakshmi vs Ajay Krishna | Ajay |
| Jayanthi vs Sudharshan | Sudharshan |
| Senthil Ganesh vs Sreelekshmi | Senthil |
Voting Procedure
Vijay TV has simplified the voting procedure. The netizens should log into Google and search 'Super Singer Vote'. The results show the two names with photos who are in the danger zone.
People will get their quota of 50 votes per day and they can divide it among the nominated contestants. The voting procedure will come to end at 8.30 pm on Tuesday. But the results of the same will be revealed on Saturday.