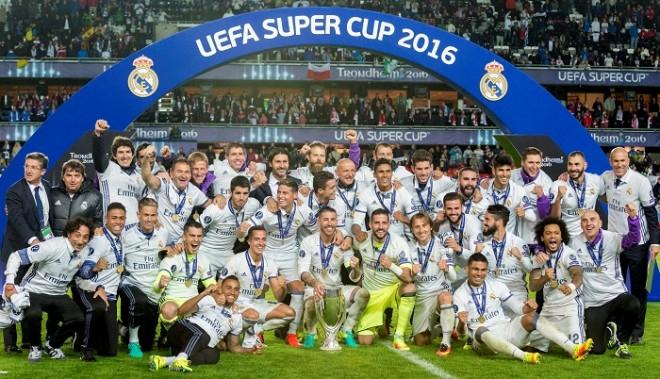 Great teams, irrespective of the sport, are characterised by their never give up attitude, which helps them attain huge success. Spanish giants Real Madrid showed similar character to win the Super Cup against Sevilla in extra time, with Dani Carvajal scoring the winning goal in the 119th minute of the match, which ended 3-2.
Sevilla were on their way to winning the Super Cup, but Real Madrid captain Sergio Ramos' header in the 93rd minute squashed their dreams. Hence, the match went into extra-time, and when one thought that the match would head for penalties, Carvajal had some other plans, and won the game with a wonderful solo goal.
The right-back spoke about their fighting spirit and his goal, which helped them win the title.
"The essence of Real Madrid is that you never give up and a goal on 93 minutes and another right at the end of extra time have seen us be crowned champions. I felt quite strong at the end of the game, I won the ball back and drove forward. Luckily it worked out and it's amazing to score a goal in a final that wins you the title," Real Madrid official website quoted Carvajal as saying.
What makes this victory even more sweet for Real Madrid is that they managed to defeat a strong Sevilla side without the likes of Cristiano Ronaldo and Gareth Bale. The duo is amazing in attacking positions.
But coach Zinedine Zidane made good use of the strong squad to come up with a good team to help them emerge victorious.
"We came into the game with several major players missing, but our squad has got a lot of depth to it. There are many of us academy graduates who are enthusiastic and are keen to bring something to the team and today things worked out well for us. We're a really united group and we're right behind the coach and are all pulling in the same direction," said Carvajal.
Though Real emerged victorious, Sevilla's coach Jorge Sampaoli, who replaced Unai Emery as Sevilla's, should not lose heart after the loss. He should rather look forward to the season ahead, where they can challenge for the top four positions.