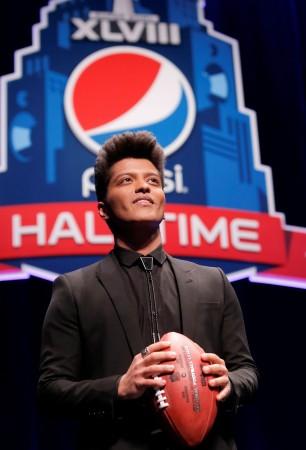 With Sunday's Super Bowl XLVIII halftime performance, Bruno Mars and Red Hot Chili Peppers will join the likes of Michael Jackson, Paul McCartney and Madonna who all have created history of sorts with their stunning stints.
But will Mars, who is just four years old in the industry, make a mark with his performance? Industry sources believe Mars' ability to deliver good music, his record as a hit maker, and a loyal young demographic can help his cause.
However, winning the older audience can prove to be a struggle.
"He already is a household name, I just don't know whether Mom and Dad are the ones in the household that know (it)," Billboard editor Joe Levy told Thespec.com.
The website also notes that Mars is not likely to have a wardrobe malfunction like Janet Jackson's in 2004, and there is no fear of Mars giving cameras the middle finger like Madonna did.
And, this might turn down the excitement level of audience, believes Alan Light, former editor in chief of Vibe and Spin.
"Is it as exciting? Are people just watching to see if it'll be outrageous? If it's just to watch somebody give a nice music performance, there are certain limitations on how much people care about that," Light pointed out to the website.
But, Mars hopes his music will be enough to get the audience dancing and smiling during the halftime show.
"Spectacle-wise? I don't do trapeze and all that stuff. I hope to get people dancing and smiling. If you ever come to one of my shows, it's just us up there. We've got these songs and our instruments, and I'm hoping that's enough," he told reporters during a press conference on Thursday.