It's game time, the Denver Broncos and the Seattle Seahawks are both ready for the play-offs and over a million fans are expected to watch the NFL Super Bowl on Sunday. But as the game time grows closer, reports of a terror threat are doing the rounds.
The Reuters reported that possible "bomb attacks of the kind that tore through mass transit sites in Russia ahead of the upcoming Sochi Olympics are a top concern of security officials preparing for Sunday's Super Bowl."
Similarly, a report on Truther.org claimed that Live Nuclear/Bio-Terror Attack Planned for New York City during Super Bowl XLVIII on 2 February 2014.
The report concludes that three incidents took place in the US this year, which were all possible terror plots. The first incident of a possible terror plot took place on 31 January, following which the FBI is on the lookout for three men, who used a bio-chemical to disable the guards and then robbed an armored truck. The terrorists are still believed to be on the loose in New York. The MetLife stadium, where the NFL game will be held is located about 10 miles west of New York City, the site of the 9/11 attacks.
Another major incident that points to be a possible 9/11-like terror attack, the Truther.org notes came on 1 February, when two airliners were grounded due to 'smoke' issue. The Truther report believes that the planes may have been part of a terror plot and were taken out by the North American Aerospace Defense Command (NORAD), after the plot was revealed.
As per Reuters, which quoted New York Police Department Commissioner William Bratton, the authorities are specifically being extra alert on a mass transit type of attack.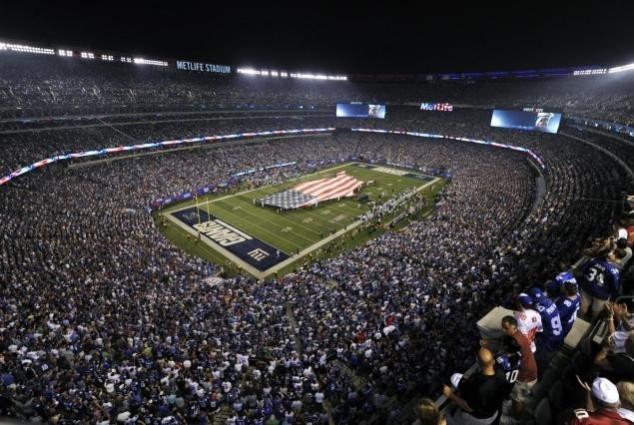 Over one million people are expected to be visiting the Super Bowl XLVII venue, though only 80,000 will get to see the match between the Seahawks and the Broncos.
Another major worry for the security agencies monitoring the NFL Super Bowl 2014 are the Lone Wolves or a Lone Wolf, who may be operating independently. The Boston Marathon bombing, which was the handy work of Lone Wolves, on 15 April 2013 killed three people and injured 264. For the last week, MetLife has been under close security watch, while agencies have been preparing against any possible attack scenario.
Security Measure at the MetLife Stadium
The security gates will open at 2 pm on Sunday, four hours prior the game. The visitors will have to pass through the security cordon, metal detectors and patdowns.

Security officials will be monitoring live feeds through cameras.

Parking around the stadium has been limited.

People arriving through rail and buses are being monitored.

Buses and trains towards Metlife will not allow anyone to travel without NFL Super Bowl tickets.
Weather Forecast
Temperature on Sunday during the games could drop to minus two Celsius.