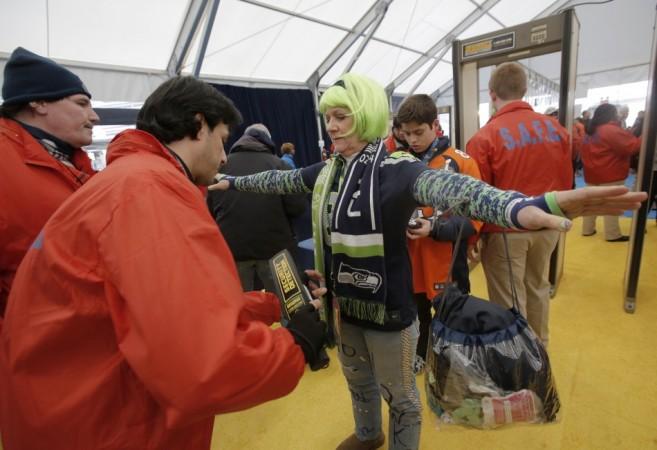 The incident where a 9/11 truther sneaked past security, without a ticket or proper clearance, to highjack Super Bowl XLVIII postgame event, shows that the Sunday's affair wasn't as safe as one would have liked.
Matthew Mills, the Brooklyn man who interrupted the show, is a 30-year-old independent journalist, whose sole intention was to get near the MetLife Stadium to conduct fan interviews.
He got past security using an old credential, very similar to the one supplied to media personnel covering the Super Bowl.
"I just said I was running late for work and I had to get in there," Mills told NJ.com. "It was that simple."
"I didn't think that I'd get that far. I just kept getting closer and closer. Once I got past the final gate and into the stadium, I was dumbfounded," he added.
Mills' gate-crashing incident has highlighted the lack of sufficient security at the sporting game. Millions of dollars are believed to have been spent to beef up security, which included employing the services of bomb-sniffing dogs and screenings through metal detectors.
In addition to an FBI command center to monitor counterterrorism intelligence, FOX reported that the U.S. Army had sent helicopters to help open the Super Bowl.
And despite these measures, Mills was able to enter the stadium without a ticket.
"I don't feel the security was all that it was hyped up to be," Mills explained. "I was put through the screening process, so it's not like I could have gotten a weapon in or anything."
Meanwhile, New Jersey State Police spokesman Capt. Stephen Jones told the website that the primary security provider, Security, Athletic Facilities & Events (SAFE) Management, was responsible for checking media credentials at the gate.
"S.A.F.E. is the primary security provider for the Super Bowl XLVIII campus that includes, MetLife Stadium, the Izod Center, and the Meadowlands Racetrack," the company's website stated.