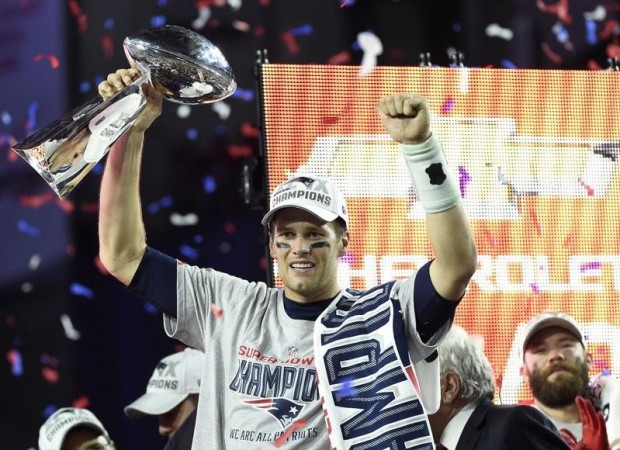 The Super Bowl XLIX was one of the most memorable ones in recent times with New England Patriots winning the title for the fourth time after beating Seattle Seahawks 28-24 at the University of Phoenix Stadium, Arizona.
Patriots had won the Super Bowl in 2001, 2003 and 2004 previously, so this was a long wait for them. A wait of around 10 years and the script could not have been written any better.
It was worth the wait for all their fans, as their team put up a fantastic display. The Seahawks, champions in 2014, had their hands on the Vince Lombardi trophy, but they gradually lost grip during the fourth quarter of the game.
What the final score fails to show is the amazing comeback of the Patriots, who were trailing by 10 points in the last quarter. After the completion of the third quarter, the score read 24-14 in favour of the Seahawks.
The Patriots were all pumped up in the final quarter and were not giving up. It was a team effort, which saw them through, but the hero of the day turned out to be Partiots' Malcolm Butler with his last-minute interception.
Had Butler not stepped in front of Ricardo Lockette to stop Russell Wilson's beautiful pass in the dying minutes of the game, the story could have been different.
Along with rookie Butler, it was quarterback Tom Brady, who put an amazing display overall, which helped him win the Super Bowl MVP award.
Brady completed 37 of 50 passes for 328 yards with four touchdown passes. Brady might have been past his prime, but his performance on the night brought glimpses of his early days, when he was one of the best quarterbacks on the planet.
Brady, 37, made his debut for the Patriots in 2000 and his performance tonight could be ranked as one of his best, despite being in the late side of the thirties.
Brady said it was the Patriots' mental toughness, which saw them through.
"It was a lot of mental toughness. Our team has had it all year. We never doubted each other, so that's what it took. That was a great football team we beat. I'm just so happy for our team,'' Brady was quoted as saying by ESPN.
"It's been a long journey. I've been at it for 15 years and we've had a couple of tough losses in this game.
"This one came down to the end, and this time, we made the plays."