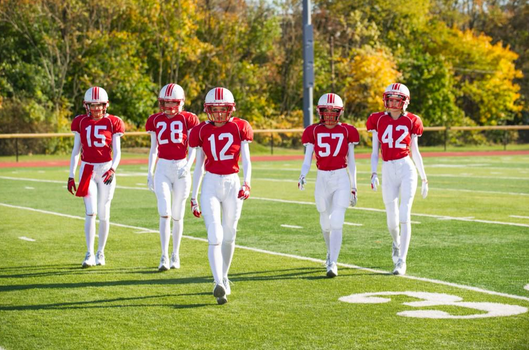 With Super Bowl just around the corner, teasers of commercials that will finally be aired on Super Bowl Sunday, 1 February, are slowly being released, and one of the first to hit the Internet is that of lingerie giant, Victoria's Secret.
The teaser for the first Victoria's Secret Super Bowl commercial in seven years has some of its top models such Adriana Lima, Candice Swanepoel, and Alessandra Ambrosio in full football gear roughing it out on the field.
The commercial starts with the models suiting up in the locker room before hitting the field. They are covered up in slim-fitting uniforms that flaunt their curves, and towards the end of the teaser the angels take off their helmets and let down their hair.
The teaser is to promote the lingerie giant's Valentine's Day collection, and a message at the end of the ad reads, "Don't Drop The Ball, It's Not Valentine's Day Without Victoria's Secret."Reportedly, Valentine's Day is Victoria's Secret's second-biggest sales period after Christmas.
The full commercial from Victoria's Secret will be aired after the fourth quarter two-minute warning at Super Bowl XLIX on 1 February.
Check out the ad below:

With this ad, Victoria's Secret will be making its third appearance in the Super Bowl after first advertising in 1999. The commercial to push Victoria's Secret Fashion Show webcast was watched by 1.5 million people, crashing the brand's website.
The second time the brand advertised in Super Bowl was in 2008, where Victoria's Secret promoted its Valentine's Day collection with the help of model Adriana Lima, who was featured seductively tossing a football.
Meanwhile, fans have been pouring in praises for the new commercial, with one YouTube user noting: "Adriana Lima is so perfect she truly is the queen of the angels, and I could watch this version of the NFL all day long for real. This commercial actually makes me want to play NFL now, and I don't even like the sport! Well played Victoria's Secret, I won't drop the ball I promise."
Public personality Jonathan Cheban tweeted that "this might be the best Super Bowl commercial to date."