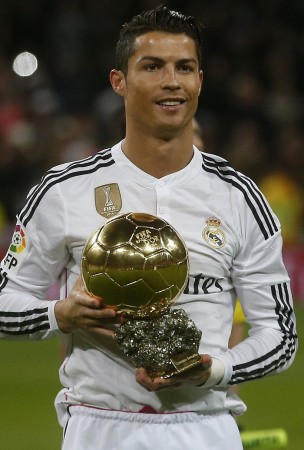 Cristiano Ronaldo's agent Jorge Mendes claims that the Real Madrid star has a £1 billion release clause in his current contract at the Bernabeu.
The 29-year-old, who recently picked up the Ballon d'Or award for a second successive year, beating the likes of Barcelona's Lionel Messi and Bayern Munich's Manuel Neuer, has been in terrific form this season, already netting 27 goals in the La Liga.
And Mendes, who engineered Ronaldo's move from Manchester United to Real Madrid for £80 million in the summer of 2009, insists that the Portuguese forward is the "best sportsman ever", and clubs will have to fork out £1 billion to secure his services.
"He's the most expensive player in the world because he's the best footballer, the best sportsman ever in the world," Mendes told the BBC Sport. "It's impossible to say his worth. Cristano Ronaldo? One billion. His buyout clause one billion, so it is one billion."
Mendes, who is also the agent of Diego Costa, Jose Mourinho, Ramadel Falcao, James Rodríguez, David de Gea and Víctor Valdés, is confident that Ronaldo will be immediately signed if Real Madrid decide to sell him for £300 million.
"If, for any reason, the club decide to sell him tomorrow for 300 million, someone will pay."
The Portuguese agent, despite claiming that Ronaldo "loves the Manchester United supporters" says he is quite certain that his client will end his playing career at Real Madrid.
"He loves the Manchester United supporters because he was there six years he but he will finish his career at Real Madrid, for sure," he added.
Meanwhile, Mendes feels that "people have the wrong idea" about his profession as many see an agent as someone who reap huge profits from the sale of players.
"People have the wrong idea about agents," added Mendes. "Being an agent means many different things. I'm someone normal, I'm working hard every single day. I have ambitions, determination and being honest, doing the right things... this is most important."
The 49-year-old claims that he has a very good relationship with his clients, insisting that they are like "family" to him.
"It is like when you talk with your son, with your family... always to try to find the best way to support them," he said.