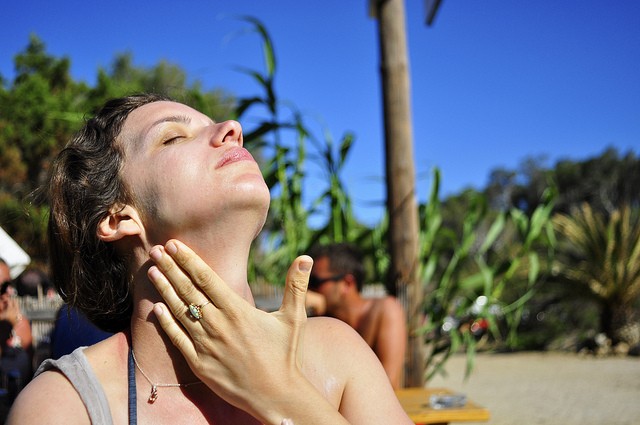 Sunscreens cannot provide complete protection against malignant melanoma, a new study says.
Melanoma is a skin cancer that starts in the cells that produce the melanin pigment. Melanoma is normally identified through visible changes in size or colour of a mole.
Scientists reached the conclusion after conducting experiments on mice. They found that the UV light caused severe damages to the DNA in the skin's pigment cells and the superhero gene called p53 that protects against cancer. Though, sunscreen succeeded in reducing the DNA damage and delayed development of the skin cancer, it couldn't still completely safeguard the p53 gene against the harms caused by UV light.
Researchers recommended people to adopt necessary steps to help avoid the risks.
"UV light targets the very genes protecting us from its own damaging effects, showing how dangerous this cancer-causing agent is. Very importantly, this study provides proof that sunscreen does not offer complete protection from the damaging effects of UV light," Professor Richard Marais, study author and Cancer Research UK scientist, based at the University of Manchester, said in a news release.
"This work highlights the importance of combining sunscreen with other strategies to protect our skin, including wearing hats and loose fitting clothing, and seeking shade when the sun is at its strongest."
However, the findings contradict a 2013 study. Researchers from Queensland University of Technology Brisbane, Australia reported in October that sunscreens can provide 100 percent protection against all kinds of skin cancers including BCC (basal cell carcinoma), SCC (squamous cell carcinoma) and malignant melanoma and safeguarded p53 gene. The study published in the journal Pigment Cell & Melanoma Research found that sunscreen provided 24-hour protection against DNA damage.
Getting exposed to the sun's ultraviolet (UV) radiation, by spending more time under the sun in the beach, living in a sunny area or engaging in activities like sunbathing and water sports, are some factors that increase the risk of developing skin cancer, according to experts from the American Cancer Society.
The risk goes up with more number of sunburns, sun-damaged skin like liver spots or actinic keratosis. About 90 percent of the melanomas are caused by mutation in genes, due to the prolonged exposure to ultraviolet radiation. Certain abnormal proteins produced by the genetic mutation have long been known to play a major role in this deadly disease.
Following are some factors that increase risk of developing melanoma, provided by NHS Choices, UK:
Colour of hair: people with red or blonde hair are at higher risk
Skin: People with pale, easily burnable skin are at greater risk
Family history
Moles: Having more number of moles may increase the risk of the deadly cancer