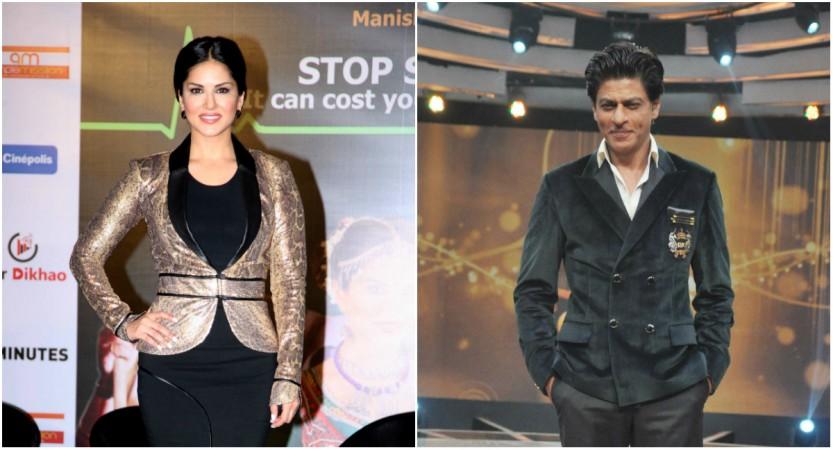 Sunny Leone considers the chance to work with Shah Rukh Khan in Raees a dream come true, but the actress's first meeting with SRK apparently was not how she would wanted it to be.
While Sunny's much awaited song video Laila Main Laila from Raees has been driving fans wild, the sizzling diva shared her first encounter with Shah Rukh on the sets of the movie.
Sunny said the first time she met King Khan she had a "weird" look and she apparently regretted that.
"The funniest thing was the first time I met Shah Rukh. I was exiting the set, I saw him, we started talking. I told him, 'Thank you so much for having me as part of the song. I am so excited'. Again a lot of thank yous, and he said, 'No, we are happy to have you'," Sunny told Bollywoodlife while sharing the funniest thing that happened to her on the sets of Raees.
"Then I go back to my vanity and the lady who did my hair, she had put my hair in this big gigantic helmet curl thingy, and I said to myself, 'Really? That's what you look like when meet Shah Rukh Khan?'. It's not even possible for me to be cool for like half a second, and just say hello, meet properly. Instead, I just looked weird," Sunny added.
This is the first time Sunny has worked with SRK and she had earlier said that it was like "getting a golden ticket for Disneyland".
Directed by Rahul Dholakia, Raees will present Shah Rukh in the character of a bootlegger. It also features Nawazuddin Siddiqui and Mahira Khan. The film is scheduled for release on January 25.