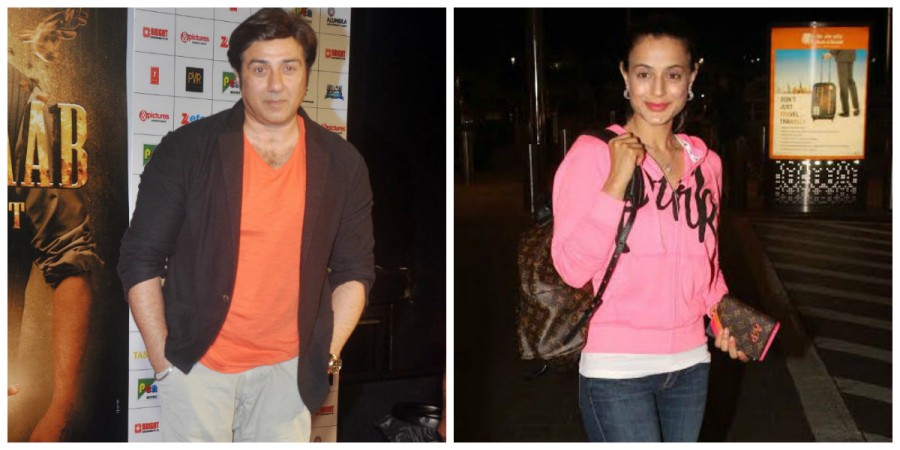 Sunny Deol and Ameesha Patel are set to appear together again in upcoming movie titled "Bhaiyaaji Superhit," which was being rumoured to be a sequel of "Gadar." However, the actress has now cleared the air confirming that "Bhaiyyaji Superhit" is not "Gadar 2."
Ameesha is very excited to share screen space with Sunny again. "I am happy to come back with Sunny Deol on big screen. But I feel our audiences are even more excited about it. I want to clear the fact that this movie is not 'Gadar' part 2. That was a serious love story and this is a comedy film. The Tara Singh and Sakhina Jodi of Sunny ji and Ameesha will be coming in a new avatar. So, it will be wrong to expect that this movie will recreate 'Gadar," the actress told media.
Meanwhile Ameesha has shared a picture on Twitter that revealed her and Sunny's look in "Bhaiyyaji Superhit." While Ameesha is seen in a cheeky look, Sunny sports a moustache. The movie "Gadar" was released in 2001 and it had turned out to be a big hit.
Directed by Neeraj Gupta, "Bhaiyyaji Superhit" also features Preity Zinta. Shooting for the film had started in 2013 but financial crisis had disrupted the film's making. However, the movie is ready now and is likely to be released this year. Check Sunny and Ameesha's look in "Gadar" and now in "Bhaiyyaji Superhit."
Sunny had made a comeback on the big screen with the movie, "Ghayal Once Again," which was a sequel to his 1990 blockbuster "Ghayal." The film had an average run at the box office. Apart from "Bhaiyyaji Superhit," Sunny has another upcoming movie titled "Mera Bharat Mahan."