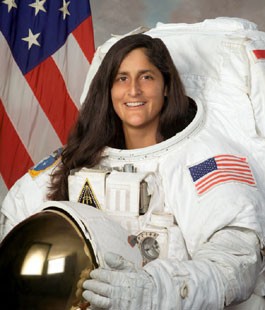 Indian American astronaut Sunita Williams, who spent 322 days in space on two missions, visited India after five years and said that space feels like home now.
The 47-year-old astronaut who is on tour across the country made the comment while interacting with students at the National Science Centre in New Delhi on Monday.
"Space is an amazing place to be in... it feels like home now," IANS quoted Williams as saying.
"I would love to be on the next spacecraft for the next mission to space and give my expertise to the experiments being done."
Williams who holds the world record for longest space flight by a woman with 50 hours and 40 minutes of spacewalk time encouraged the students to purse their interests.
"I never envisioned to be an astronaut and had many failures, but ultimately I reached here... So my advice to students is that they find something they really like to do and should do it well and enjoy."
Presiding over the event attended by children from various schools, Williams said that she would like to give a chance to the younger generation to lead future space missions.
After her session in New Delhi, Williams will fly to Mumbai and will be there till 4 March where she will reportedly visit a working women's hostel managed by the Indian Council of Social Welfare and interact with residents and students. Williams will then leave for her father's home town in Mehsana district of Gujarat.
Williams, who had last visited India in 2007, will be conferred with honorary doctorate degree by the Gujarat Technical University and will address the students there.