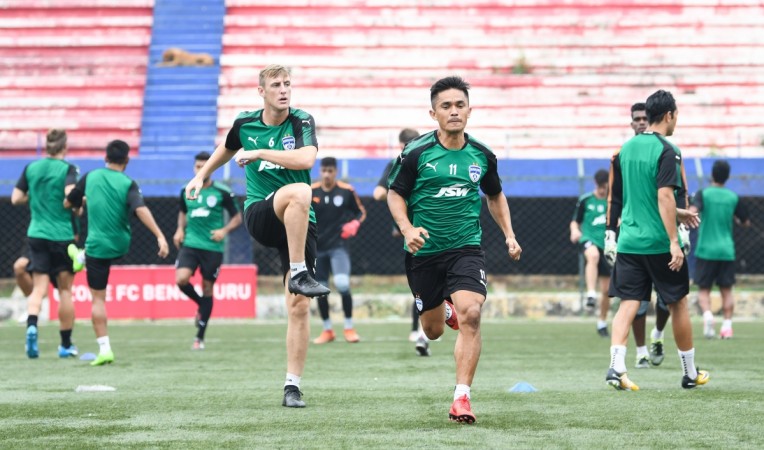 If you are in the Indian Super League (ISL), you need to have a marquee player: That was the rule until last season. Nevertheless, the ISL 2017-18 season sees quite a few marquee players within the teams. For example, Robbie Keane is the marquee man for ATK, while Dimitar Berbatov is the marquee man for Kerala Blasters.
Who do Bengaluru FC have now as the marquee player?
Well, Sunil Chhetri is definitely the most standout name in the BFC team. Goalkeeper Gurpreet Singh Sandhu too is another big star. Whoever said that an Indian football side cannot perform if they don't have at least one star foreigner (read, THAT big name) around!
The entire team of Bengaluru FC, two-time I-League Champions and an AFC Cup finalist, are made up of marquee players.
Nevertheless, we still managed to asked captain marvel Chhetri on who, according to him, the team's marquee player is. The answer came more swiftly than we ever imagined.
"John Johnson!" pat came the reply from Chhetri to the question posed by International Business Times, India, during Saturday's press conference at the Sree Kanteerava Stadium. Bengaluru FC play Mumbai City FC in their ISL opener on Sunday.
"He's the marquee player. He's the best player we have in our team," added Chhetri. "John Johnson's the marquee player. Are you not believing me? (smiles)"
SC: If you ask me who our marquee player is, I would say @John6Johnson. You wouldn't believe me, but that's the truth. John Johnson is our marquee player. #BENMUM

— Bengaluru FC (@bengalurufc) November 18, 2017
While some present in the presser stated that Chhetri gave a satirical reply to the question, BFC fans do know the huge role Johnson plays in the team. Some commented on Twitter that Chhetri was spot on and it was an honest reply.
Few notes about John Johnson:
The English defender, now 29, has been a part of Bengaluru FC since their inception in 2013-14 season.
He has been one of the most reliable and strongest defenders in the I-League. Johnson has paired up with the likes of Curtis Osano to Juanan at the heart of the BFC defence, effortlessly, over the seasons.
Johnson, who played with English side Middlesbrough in the past, has made over 100 appearances for BFC over the seasons. His goals on critical junctures have also remained memorable and holds a major position in the legacy of Bengaluru FC.