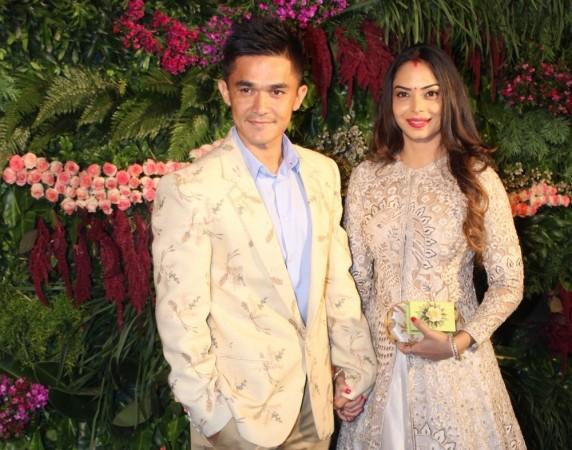 Sunil Chhetri's marriage with Sonam Bhattacharya remained one of the biggest celebrity sports weddings of the year 2017. The Indian football talisman tied the nuptial knot with longtime girlfriend Sonam in December. Coincidentally, around the same time, the biggest wedding of the year took place -- of Virat Kohli and Anushka Sharma.
So how is life after marriage for Chhetri now?
The 33-year-old Bengaluru FC forward, who has been seen leaving the Kanteerava Stadium in his audi car after matches, hasn't really forgotten donning his goalscoring boots. He scored the only goal as the Blues beat defending ISL champions ATK in Bangalore on Sunday.
So has there been any major change as such to his lifestyle now that he has Sonam as his permanent partner at home? Well, not really.
Except for the fact that the Indian football team star, who is not really seen frequently in the public -- if not for matches and press conferences -- now knows a thing or two about the prices of onions and tomatoes!
"The last 10-15 days after marriage... I have enjoyed my time. I think me and Sonam have seen each other for 13 years but we never lived with each other," Chhetri mentioned in an exclusive interview to IANS.
"She was always a tourist wherever I played. Now living together, it's nice, man. More because, apart from the fact that she is my wife and I love her... we are also very good friends," he added.
Sonam, a business management graduate from Scotland, is the daughter of famed Indian football coach and former Mohun Bagan footballer Subrata Bhattacharya.
Chhetri married Sonam on December 4 in both Nepali and Bengali traditions in Kolkata.
"She understands my job. So there was no need of telling her that I have to come back and sleep and take a nap... everything is nice because she understands," continued Chhetri.
"Later in the evening we watch Netflix. We go for walks. We went to buy grocery the other day and I realised I haven't taken walks for a long time. I know the rates of onions and tomatoes now (laughs)."