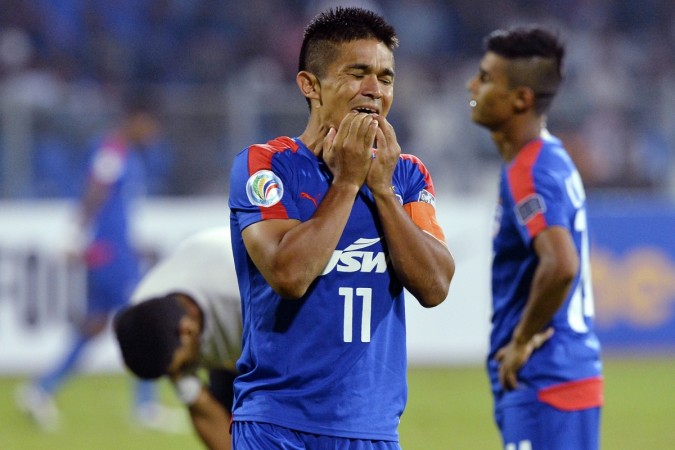 When it was announced that Bengaluru FC will leave I-League and join the Indian Super League (ISL) for the 2017 season, the primary talking point was about Sunil Chhetri's future.
The India captain had played with Mumbai City FC in the last two seasons of the ISL, while he had been a pivotal member of Bengaluru FC's squad for the last four years, leading them to two league and two Federation Cup titles. Notably, Chhetri, BFC's highest scorer in all four seasons, also played a crucial part in leading them to the final of AFC Cup in 2016.
Putting an end to all the speculations, it was announced yesterday that the 32-year-old along with Udanta Singh have been retained by the Blues as the Bengaluru-based franchise prepares itself to make ISL debut later this year.
According to ISL's regulations that allow a team to retain two of its players ahead of the upcoming 10-team season, both Mumbai City and BFC had the option of retaining Chhetri, according to sources. Neither of them would have wanted to let go of the influential striker, who is scoring goals at will for both his club and the country.
While he has achieved quite a lot of success with both the franchises, when it came to choosing between the two, it seems Chhetri did not have any second thoughts about staying on with the Blues.
A source close to the developments said: "He [Chhetri] may have been originally a Bengaluru FC player and loaned to Mumbai (in the ISL) last season but both franchises had the right to retain him."
"In the end, it came down to what Sunil wanted. It was his choice (to stay with Bengaluru FC)," BFC chief technical officer Mandar Tamhane said, as quoted by the Times of India.
Chettri has been vocal about the fan support he has been enjoying at BFC. Soon after the news of his contract extension came out, he took to Twitter to express his love to the fans of BFC.
The club borrowed your chant, I'm borrowing your banner. Okay then, Bengaluru, let's make more memories and win more trophies. ? pic.twitter.com/7TYiV2QMFP

— Sunil Chhetri (@chetrisunil11) June 30, 2017
I've always said I wanted to stay and I'm glad we have a bunch of papers that confirm I'm staying. (2/4)

— Sunil Chhetri (@chetrisunil11) June 30, 2017
The @IndSuperLeague will be an exciting and brand new challenge but we are Bengaluru and we never surrender. (3/4)

— Sunil Chhetri (@chetrisunil11) June 30, 2017
Even after he scored the stunner against Kyrgyzstan earlier this month in the AFC Asian Cup qualifier, the Bengaluru striker made sure he praised the local fans' support at the Kanteerava Stadium.
And to the fans in Bengaluru,I will always fall short of what you mean to me. There's a special place in my heart for you. Thank you!

— Sunil Chhetri (@chetrisunil11) June 13, 2017
BFC CEO Parth Jindal could not have asked for a better man at the helm of things when they are heading into untested territory -- the ISL. While conceding that they are in for a tough test, the Indian businessman expressed delight at retaining two of their important players.
"We are thrilled at being able to retain the present and the future of Indian football in Sunil and Udanta. The two of them have been immense for Bengaluru FC and will be vital cogs in our wheel as we take on the challenge of rebuilding the club for what will be a tough season ahead," Jindal said.