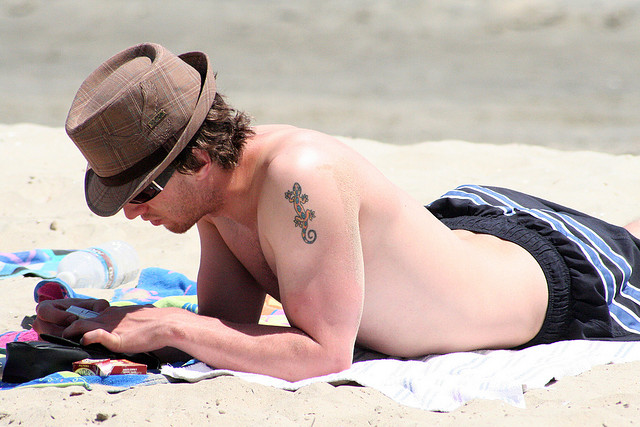 The secret has been finally revealed! Scientists have discovered the body mechanism that makes people spend more time under the sun, despite all the health risks involved with it.
A new study from the Harvard Medical School in the US found that the ultraviolet (UV) light can affect the body the same way as some illegal drugs.
David E Fisher and colleagues conducted experiments on mice and found that exposure to UV light produced endorphins in the body, the hormones that are known to make a person calm after physical pain or bring positive attitude or good feeling.
Continuous exposure to sunlight was associated with addictive type of behaviour in the animals. "Our study identified an organic pathway encoded in skin whereby UV radiation causes the synthesis and release of beta-endorphin and produces opiate-like effects, including addictive behavior," lead researcher David E. Fisher, from the Massachusetts General Hospital, said in statement appeared on the Harvard Medical School website. "This provides a potential explanation for the 'sun seeking' behavior that may underlie the relentless rise in most forms of skin cancer."
Countless studies on indoor tanning have shown similar results. People who undergo indoor tanning regularly can accurately tell when they use tanning beds run on non-UV light, the researchers said.
Strengthening the theory, several studies in the past have also shown that intake of an opioid blocker led to withdrawal-like symptoms in frequent tanners.
Exposure to the sunlight leads to the production of a protein called POMC, which is involved in the production of pigment melanin and beta-endorphin in the skin.
During the study, researchers removed some hair from the back of a group of mice. This part of the body was exposed to a daily dose of UV light, equivalent to 20 to 30 minutes of sun exposure in humans, for a period of six weeks. Exposure to UV light was associated with a sudden surge in the levels of beta-endorphin in the animals' blood. Higher production of the chemical in the body was associated with decreased sensitivity in the animals.
The UV light exposed animals showed less response to fluctuations in temperature or to touch. However, skin sensitivity was restored in the animals when the opioid pathway was blocked with a naloxone treatment. It also led to withdrawal –like symptoms in the rodents, including teeth chattering, shaking and trembling.
Findings of the study have been reported in the journal Cell.