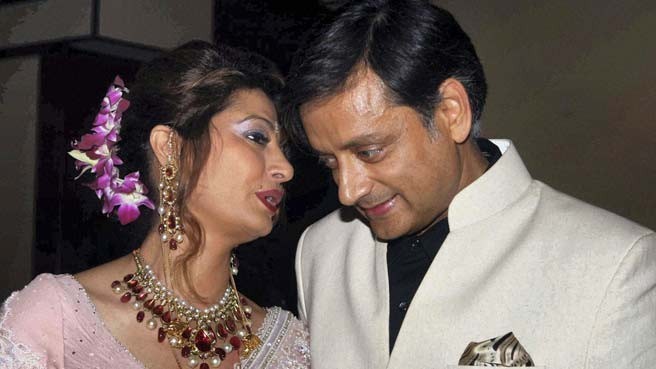 In a latest round of details emerging on the mystery surrounding Sunanda Pushkar's death, it has been discovered that a 'deep bite mark' is among many other 'scuffle marks' on her body.
The details coming to light from Pushkar's forensic report tends to draw attention on the alleged scuffle she had with her husband before her death. The report also gives details of over a dozen injury marks on her upper body including hand, arm, chin, and neck, all of which were termed as 'scuffle marks', Zee News reported citing undisclosed sources.
The autopsy report submitted to the sub-divisional magistrate revealed that her death was due to drug poisoning while the marks were ruled as minor injuries. Sources have suggested that Sunanda could not have suffered an overdose inadvertently, an indication that her death could either be attributed to a suicide or a homicide.
Although the injury marks have been largely ignored, they might impact the investigation as the Delhi Police has been directed by the sub-divisional magistrate to investigate the death through the angle of suicide or a murder.
The death has also overturned into a political game play, as NCP leader DP Tripathi said that the Union Minister Shashi Tharoor must quit until he is given a clean chit. Congress has rejected the remark saying there is no question of resignation.
"Tharoor is in a responsible ministerial position. He is also an inseparable part of Congress. There is no question of resignation," Congress spokesperson Randip Surjewala said.
Pushkar's son from her second marriage, Shiv Memon, issued a statement on Tuesday denying any possible role of Tharoor in his mother's death.
"Shashi Tharoor would never physically abuse my mother. Though there were differences between them they were deeply in love with each other," he said.
Sunanda was seen getting increasingly frantic and upset over the days leading to her death, due to an alleged extra-marital affair between husband Sashi Tharoor and Pakistani journalist Mehr Tarar. Sunanda was found dead at Leela Palace hotel in South Delhi in the evening of 17 January, amid reports that she was planning to meet the press and reveal everything she knew about Tarar and the alleged affair.