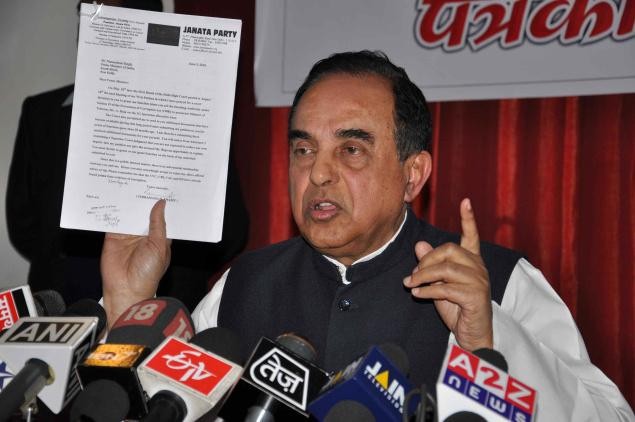 Adding to the strings of accusations against Congress politician Shashi Tharoor, BJP leader Subramanian Swamy has now alleged that Tharoor spent three nights with Pakistani journalist Mehr Tarar in Dubai at the time when he was serving as India's union minister.
"When Tharoor allegedly spent three nights with suspected ISI compliant journalist Tarar, he was India's union minister. That is like Profumo," Swamy tweeted on Tuesday.
Swamy's tweet is apparently based on a dated report that quotes a witness saying that Tharoor had indeed stayed with Tarar in Dubai for three nights. To this, Tarar had replied saying "I was there at a function and many people were there," according to an IBNLive report.
Swamy went on to compare the situation with the Profumo affair, which dates back to 1960s. The Profumo affair was a political scandal in which British politician John Dennis Profumo was accused of having sexual relationship with a 19-year-old model Christine Margaret Keeler.
The revelations forced Harold Macmillan-led government's Secretary of State for War Profumo to admit about his affair with Keeler later in 1963, after which he resigned from both government and Parliament.
This is not the first time when Swamy has accused Tharoor of being involved in his wife's murder. Earlier this month, after Delhi police declared Pushkar's death a murder case and field an FIR, Swamy had called Tharoor a liar, according to news reports.
On another occasion, he claimed that Tharoor did not kill his wife but he knows who the killer was. "Mr Tharoor did not kill her, but he knows who killed her and facilitated her killing. He lied and tried to cover it up. So he will also be sent to jail, but won't get capital punishment," Zee News quoted Swamy as telling mediapersons.
Pushkar was found dead in Leela Palace hotel in New Delhi's Chanakyapuri area on 17 January, 2014. Days before her body was recovered from the five-star hotel, Pushkar had made public Tharoor's alleged relations with Mehr Tarar.