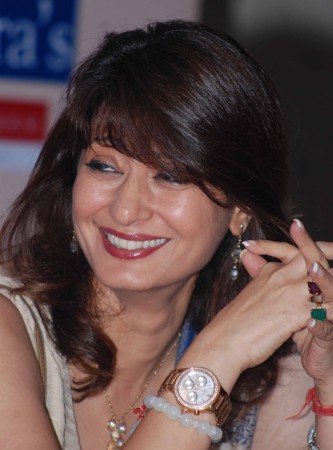 AIIMS medical board has unanimously declared that Sunanda Pushkar died of "poisoning" as there was presence of lidocaine from the anxiety drug Alprax in her stomach, said reports.
The board, however, did not rule out the possiblility of any injectable poison, considering a mark on Sunanda's body. The FBI report on her viscera samples also confirmed the presence of lidocaine in her body.
The medical board's opinion, communicated to the Delhi Police, ruled out death due to combination of drugs, and said the Special Investigation Team (SIT) should "thoroughly probe" if any person had access to injectable agents in view of a syringe mark spotted on Sunanda's body, reported PTI.
"The medical board unanimously concluded that the cause of death in this case is poisoning.," PTI cited its written opinion as saying.
"The circumstantial recovery of empty Alprax tablets (27 tablets) and the report of the FBI, which shows the presence of Alprax in the stomach and its contents, spleen, liver section, half of each kidney, blood sample, as well as urine-wet clothing, bed cover and bed sheet confirmed the death was due to excessive ingestion of the tablet Alprazolam.
"The medical board does not rule out any injectable poison in view of injury number 10, which is an injection prick mark, and it is subsequently clarified by KIMS Hospital as well as the confirmation of presence of lidocaine in the FBI report. The dozens of unexplained injuries, including teeth bite mark, are suggestive of active scuffle prior to death."
The board added that the fatal dose of Alprax can be different for different people, depending on physical conditions and medical history.
In January last year, the Delhi Police had filed a murder case in connection with Sunanda's death and had later sent her viscera samples to an FBI lab in Washington.
The report — sent by the FBI to the Delhi Police earlier — said the radiation levels in the viscera samples were "within the standard safety norms".
Sunanda, wife of Kerala MP Shashi Tharoor, was found dead in a five-star hotel in Delhi on 17 January, 2014.