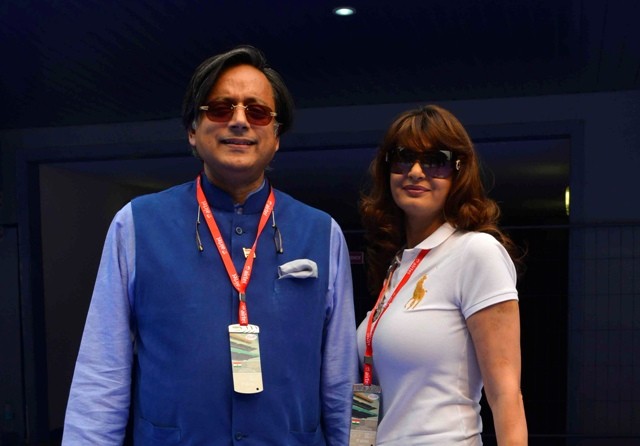 The forensic report of Sunanda Pushkar has revealed she died due to drug poisoning, indicating the possibility of a deliberate administration of drugs aimed at ending life, various news reports stated.
Doctors have ruled it was not an inadvertent drug overdose, however, it cannot be ascertained whether she had committed suicide or someone murdered her.
The final report of Sunanda's autopsy was submitted by the three-member AIIMS panel to the Sub-Divisional Magistrate (SDM) on Monday. The police officials said the report will now require them to review all video footages of the hotel lobby and check who all had visited her room, including the hotel staff, The Times of India reported.
Alok Sharma, who is currently in charge of the proceedings, has refused to disclose the details of the report. However, The Times of India has quoted a source, saying Sundanda could not have poisoned herself accidently.
The preliminary findings after the post-mortem revealed Sunanda had several external injury marks. Though the doctors have denied revealing the nature of the injuries, various news outlets have reported, citing sources, that the injuries on the upper part of her body looked like scuffle marks. Doctors had said it was a case of "sudden unnatural death".
No trace of alcohol was found in the 52-year-old's body, though the doctors did find the presence of Alprazolam, a psychoactive drug and sedative, the Hindustan Times reported.
Sunanda was seen getting increasingly frantic and upset over the days leading to her death, due to an alleged extra-marital affair between husband Sashi Tharoor and Pakistani journalist Mehr Tarar. Sunanda was found dead at a Leela Palace hotel in South Delhi in the evening of 17 January, amid reports that she was planning to meet the press and reveal everything she knew about Tarar and the alleged affair.
Sunanda was in the headlines last week, after she hacked into her husband's Twitter account and posted private messages between him and the woman she alleged was 'stalking' him.
A spate of tweets from Sunanda criticizing Tarar went viral. She even alleged in a television interview that the woman was a Pakistani ISI agent, who was trying to ruin her marriage.