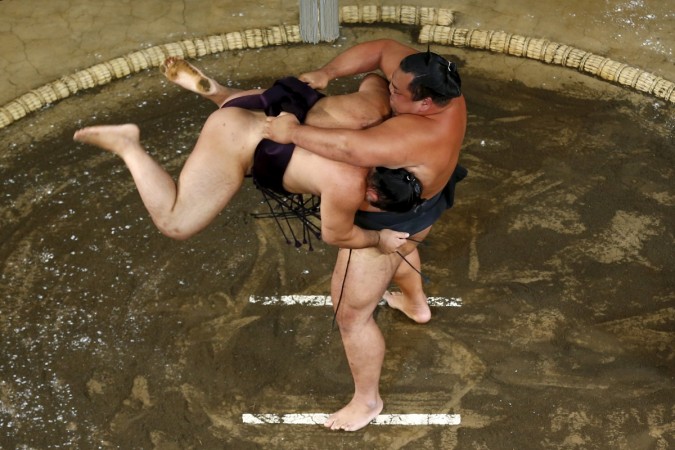 One of the biggest names ever in the Japan sumo wrestling circuit, Chiyonofuji Mitsugu died at the age of 61 in a Tokyo hospital on Sunday after a prolonged battle with pancreatic cancer.
The 127 kg athlete, who was born by the name of Mitsugu Akimoto in Fukushima, Japan, has remained the champion a whopping 31 times -- third in the list of sumo wrestling athletes.
Chiyonofuji was also the first ever sumo wrestler in history to receive the People's Honor Award in 1989 for his achievements, that saw him become only the 58th yokozuna (the highest rank in Sumo wrestling) in 1981.
The unusually lean-but-mean 6ft tall athlete clinched a total of 1045 wins, 437 losses and 170 draws over his over 20-year long career between 1970 and 1991.
Numerous tributes have been poured for the sumo wrestler, who ran the 'Kokonoe' stable. From 'Shibatayama' stablemaster and former 'Yokozuna' Onokuni Yasushi, who ended Chiyonofuji's 53-match winning streak in his final bout of the Showa Era in 1989, to 'Tamanoi' stablemaster Tochiazuma Daisuke, the Japanese sumo wrestlers were in deep mourning.
"He was a star, and we've lost a very important person. He was some yokozuna," Tochiazuma was quoted as saying by Kyodo News. "I will never forget that feeling when I fearfully pressed my forehead against his metal body," added Takanohana Koji, also a former 'Yokozuna'.
"All I have to say to him is, 'Thank you for your hard work.' I was blessed with a wonderful disciple," said Kitanofuji Katsuaki, a revered 'Yokozuna', who was also the head coach of the 'Kokonoe' stable.
Chiyonofuji is Chiyonofuji. He was wild but sensitive. He used bad language but his heart was not as bad, and he was actually easily moved to tears."
Popular sumo wrestling moves by Chiyonofuji:
'Uwatenage' - overarm throw.
'Yorikiri' - The opponent is forced backwards out of the ring by maintaining a proper grip on the 'mawashi' (the belt of sumo wrestlers).
'Tsuridashi' - To lift the opponent by the 'mawashi' and throw him outside the circle.
'Amiuchi' - Using the weight of the opponent to grab his arms and pull him in. It results in the opponent getting disbalanced and falling out of the circle.