A cohort of dermatologists descend on Bengaluru, India, on April 20 to announce about the 12th Edition of the World Congress of Cosmetic Dermatology (WCOCD), which will take place from March 4 to 6. The doctors teamed up with the International Academy of Cosmetic Dermatology and other international research groups as part of the program.
Also Read: Bizarre things women do to beautify themselves!
The main aim of this event was to educate people on the dos and don'ts of skincare and also enlighten people on various skin-related problems, many of which lead sufferers to be stigmatized by society.
Vitiligo
Vitiligo is a disease that causes white patches on the skin due to a loss of pigment. While it's unclear what causes vitiligo, the disease often sees the sufferer being stigmatized. Researchers and doctors at the Congress aimed at spreading a social message making people aware that the skin disease can, in fact, be treated by dermatologists.
"Numerous cases of vitiligo have been observed by every day. New treatments now exist for this problem, and though they are time-consuming, they are effective. In Treatments like phototherapy, targeted phototherapy and excimer laser — which involves a different type of surgery — we can take cells from the skin, pigment cells, hair follicles, or even create cells in a culture and treat patients," Dr Venkataram Mysore, MD, told International Business Times, India.
"Vitiligo is not a serious disease, it's just a change in skin colour, hence people suffering from it should not be ill-treated," he added.
"It is more of a social stigma, friends and family should be very supportive of the patient. More than a disease this is a social stigma and it's good to see more awareness being spread about the same," Dr R Raghunatha Reddy, a dermatosurgeon told International Business Times, India.
Hair care
A recent case of a boy dying while undergoing a hair transplant procedure at a spa sent alarm bells ringing through the medical industry, and now doctors aim to prevent such tragedies from recurring. Another thing these doctors have observed is the obsession to be fair and by extension "attractive".
Doctors also cautioned against leprosy, a disease that has been making a comeback over the last few years.
Prevailing quackery
The doctors also wanted to send out a message regarding the numerous advertisements people come across on TV and in newspapers regarding spas, beauty parlors and beauty products that promise all sorts of medical miracles.
People start using their products or services without knowing their authenticity, qualification or the ingredients that have been used in creating them. Apart from risking their skin, people also spend a lot of money on these treatments.
Self-medication
It is a common practice to treat oneself with the help of over-the-counter medication, or by simply reading about the problem on the internet and following whatever is written, without even confirming how safe and true the treatment is, or if, in fact, the patient is really suffering from the disease.
Dr Mysore cited the example of a person who wanted to remove a tattoo from his body. He surfed the net and read that trichloroacetic acid could be used to remove tattoos. He purchased the acid online, using it, and burning himself. It was only later that he visited Dr Mysore to get treated.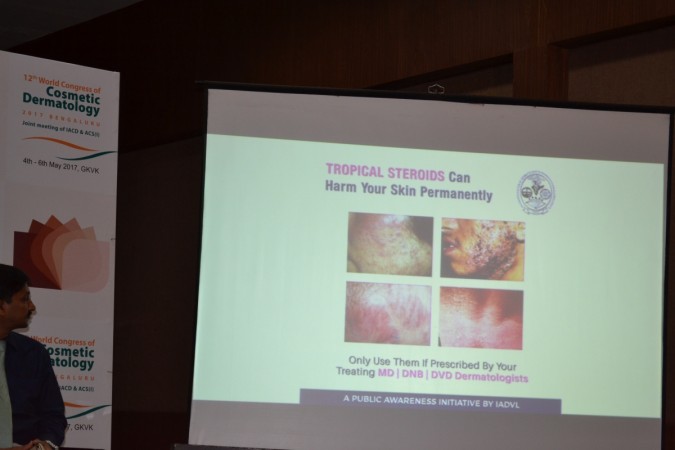 People are also treating their skin using steroid creams. This cream is available for around Rs30, and while the cream offers temporary respite, the skin problems tend to recur in most cases, which makes people use these creams multiple times.
This often results in serious skin problems; frequent use of these creams has also been responsible for a rise in fungal infections; these infections are found to be resistant to medicines generally used to treat them. Hence, one should always consult a dermatologist rather than self-medicate.
"A rise has been observed in the number of cosmetic procedures over the past decade. Most of the people opt for changing their skin colour, botox, rejuvenating the face, body shaping, removing dark circles are some other cosmetic surgeries people opt for," Dr B S Chandrashekar told International Business Times, India.
"Many youngsters can be seen coming for hair loss treatments and hair repair treatment after they get it damaged by going to random places by seeing the ads in newspapers and television," Dr Chandrashekar added.
Here are a few facts about skincare, haircare, and cosmetics in India:

Fairness cream market size in India: Rs2,000 crore

Steroid-based fairness cream market size: Rs2,50 Crore

Number of Dermatologists in India: Approx 11,000, of which, 70% of them work in metros

Over 30% of the population in Bengaluru uses fairness creams

Over 10% of fairness-cream-users use steroid-based creams (SBCs)

Age group of 24–45 use these creams

More women use the creams. The use of such creams is across socio-economic classes

Steroid-based creams (SBCs) are about 70-80% cheaper than fairness creams

Lower-income groups use the creams more often, due to lack of awareness

Over 10-12% of the population is suffering from a skin condition

Every dermatologist in Bengaluru sees 3-4 cases every day, which is a direct result of SBC use