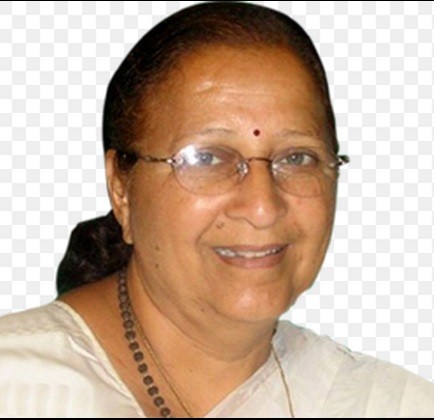 Lok Sabha on Friday elected its second woman Speaker, as party members unanimously decided to place BJP MP Sumitra Mahajan for the top post.
An eight-time Member of Parliament from Indore, Mahajan has been representing the Indore constituency of Madhya Pradesh since 1989.
The 71-year-old was elected after the new members administered oath as members of the 16th Lok Sabha. Prime Minister Narendra Modi also thanked all political parties for unanimously electing the new speaker.
On Thursday, senior leaders from all parties had moved motions in proposal of making way for Mahajan to take the top job. Her name for the post had been approved then.
As the time for filing the nomination for the post came to a close at noon on Thursday, Mahajan's was the only name suggested.
Who is Sumitra Mahajan?
Born on April 12, 1943 in Chiplun of Ratnagiri district in Maharashtra, Mahajan became a municipal cooperator in 1982. Her career track can be mostly seen taking a clear step in a vertical direction of success in BJP.
Affectionately known as 'Tai' (elder sister), the eight time BJP MP is best known to have a calm and soft-spoken temperament. The senior most member of the house among women, Mahajan has grown both in experience and wisdom with her long career in politics.
Quite interestingly, she has been referred to as Sumitra Mahajan (Tai) even in official list of the 16th Lok Sabha MPs.
Starting her career at the age of 39, she went on to be the Deputy Mayor and then MP from Indore. Through 1999 and 2004, she has been the minister of state and served in the portfolios of Human Resources, Communication, IT and Petroleum and Natural Gas in the Atal Bihari Vajpayee cabinet.
Best known for her impeccable simplicity and calm nature, Mahajan has also been known as a keen observer of facts and seeker of knowledge. Heading important committees were only part of her leadership qualities while she is also known as a brilliant debater and an excellent questioner – best recognized for her calm yet stern interventions against politicians in the house.
Although she has lost elections three times before being elected as an MP, she has never lost after being one in 1989, with an impressive win even in the recent Lok Sabha election having secured a massive 4.67 lakh votes.
Within BJP, she has shown remarkable growth from being President of the BJP Mahila Morcha in Madhya Pradesh in 1990 to being the national general secretary in 1998.