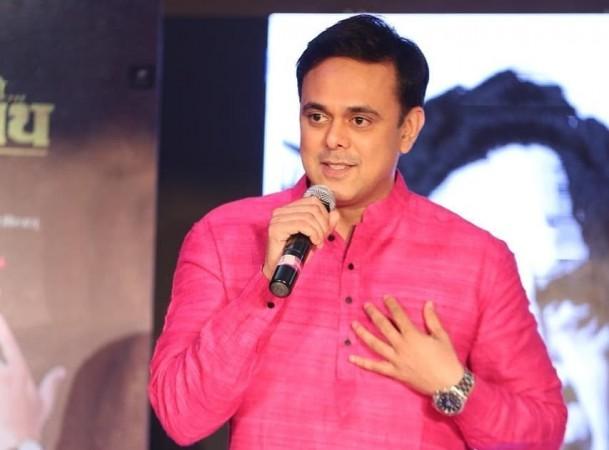 Actor Sumeet Raghavan, who became a household name with his role in television popular sitcom Sarabhai vs Sarabhai, will now be seen stepping into the shoes of Mohan Bharti, a Hindi teacher originally played by Pankaj Kapur, in the remake of Zabaan Sambhal Ke.
The ALTBalaji web series promises to bring back the essence of the 90s iconic show to the online streaming platform with a topping of a double-meaning humour.
In an exclusive conversation with International Business Times India, Sumeet Raghavan spoke about stepping into the shoes of Pankaj Kapur's character in the remake of the 90s iconic show, why he likes doing theatres and why doing Marathi films is better than joining the rat race in Bollywood.
Was there any kind of pressure to take over Pankaj Kapur's character for Zabaan Sambhal Ke remake?
No, there was no pressure as such because two generations have passed by since the 90s show was aired on television. Today's young generation have not seen the sitcom Zabaan Sambhal Ke. I even spoke to my kids who binge watch on Amazon or Netflix and they said that they vividly remember the show.
So for them, it was a brand new, a fresh show to watch online. Yes of course, I have seen the iconic show but let me tell you that the entire show has been revamped, you know. Not just my role but the other actors will also bring some kind of freshness in their portrayal of characters.
Yes, I was happy that such an iconic show was getting a remake but there were no inhibitions while doing the show. At the end of the day, we are all professionals. We know what has to be done and to what extent. So I am happy that I am a part of this iconic show.
TV remakes have so far failed to woo the masses. Do you think Zabaan Sambhaal Ke will entertain the audience like it did in the 90s?
You know what happens with a television series is that when it airs and finishes its episodes, it starts arriving on online streaming platforms as well. When a show gets an online platform, it slowly starts picking up the pace.
Sarabhai vs Sarabhai season 2 was also a hit but its first season was the most discussed show. The thing with Zabaan Sambhal Ke is that the old sitcom is not available on any platform for people to watch. So there will be only the new series that will be available for viewers to watch online. When people will search for Zabaan Sambhal Ke, I think they will find the new episodes only. So it's a gamble.
Do you think you will get an audience for your web series?
I think the show will definitely find a young audience who spend time online. Also being a part of the entertainment industry for a long time, people will search for me as well to know what kind of work I am doing currently.
Also, there are several other actors who have also put in a lot of effort in their characters which will be a delight to watch. The show consists of a double-meaning humour as well which I think the current generation may like it unlike people of my generation and the previous generation. Streaming platforms like Netflix have started showing a lot of bold and sex scenes in their films. So I think audience is ready for double-meaning humour.
How do you choose your projects?
I usually take up work, if my role is impactful and challenging one, and if the project is based on a good subject. For TV, you can have benefit of the doubt but for cinema, it is different. It's a one time watch. So I look at all the aspects of my character while choosing a film and whether it will benefit me or not.
You have worked in almost every medium -- TV, films, theatre and now a web series. Where did you like working the most?
I like doing theatre the most and web series as well as it has now emerged as a new platform altogether. You can be done shooting with a web series and easily enjoy watching it as all episodes get uploaded online in one go.
Television also has a different kind of aura but I personally like doing theatres. The reason is that I have started my career with theatre. It's been almost 32-33 years in the entertainment industry and I did my first play in 1986. I have reached at this point of my career doing theatres.
Television and cinema you usually do it for earning money and there's also some kind of pressure of bringing that money back to the producers. I feel that if you want to explore yourself as an actor, then there is no place other than theatre.
Here you have that zeal of doing something creative, something new, to experiment with yourself. In cinema, you can do the same but I like the interaction between the actors and the audience in the theatre.
In the past 3 years, you seem to have shifted your focus from Hindi cinema to Marathi film industry. Was it because of the kind of roles you were getting offered?
Yes, it was because of the roles only. It was intentional that I did Marathi movies. Basically doing something good is important and today, the Marathi film industry is flourishing and churning out so many good content movies.
I think the industry is in its best phase now. So many new directors and producers have started showing interest in making a Marathi cinema that will last for a longer time in the hearts of the audience. These people are bringing new thoughts, new ideas to the table which is making working in the Marathi film industry even more interesting.
After Holiday (2014), you didn't appear in a Hindi movie at all. What's the reason behind it?
I actually didn't get any film offers from the Hindi film industry and that's ok. The goal of an actor is to work in a good cinema and not limited to getting work in a particular film industry. We unnecessarily try to make a huge deal out of getting work in Hindi cinema which is not the case.
In comparison, Marathi films are far more content-driven and performance oriented than Bollywood movies. I am a part of the Marathi speaking world and I am proud of myself that I am contributing to the Marathi cinema which is making me learn even more with each project.
For me, it doesn't matter if Bollywood offer or doesn't offer me any work. It doesn't really make any difference to me or the actor within. It is always better to do good roles in Marathi than doing a lifeless role in a Hindi film. It's always better to stand out from the crowd than joining the rat race in Bollywood.