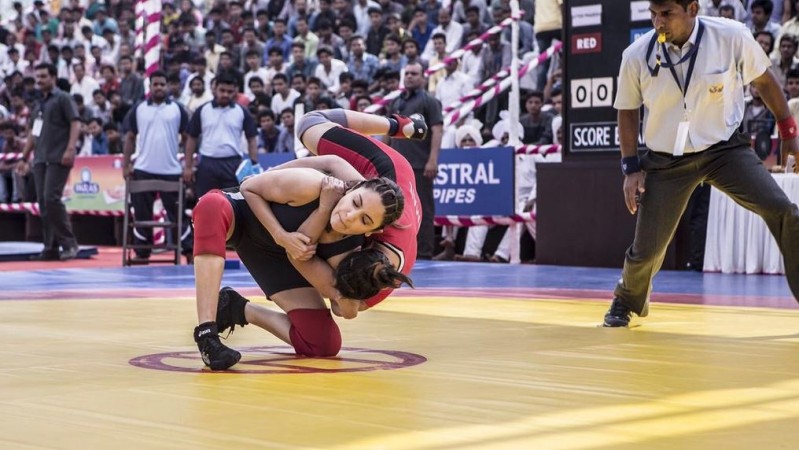 The makers of "Sultan" have released the second teaser of the film that introduces Anushka Sharma aka Aarfa as the "Haryana ki sherni and Sultan ki jaan." After the first teaser of "Sultan" that showed Salman Khan knocking down his opponent, the new teaser shows Anushka's tough avatar as she offers some impressive "dhobi pacchad" to her opponents.
"Sultan" teaser 2 first shows Anushka doing some household works and then she is seen doing pull-ups. However, the most exciting part of the second teaser is when the actress knocks down a male opponent inside the ring.
Another interesting part of the new teaser is Salman's voiceover in Haryanvi accent as he introduces Anushka as "Haryana ki sherni and Sultan ki jaan." Directed by Ali Abbas Zafar, "Sultan" will present both Salman and Anushka as wrestlers.
This is the first time that the two actors have shared screen space. Produced by Yash Raj Films, "Sultan" is one of the most awaited flicks of this year. Both Salman and Anushka have apparently worked very hard for their respective roles. Apart from building up the desired physique to suit the characters, the duo had undergone intense wrestling training to learn nuances of the sport.
Although most of Salman's movies primarily focus on the superstar himself, this is those rare occasions when the female lead of his film has also been getting a lot of attention. Apparently, after "Ek Tha Tiger," in which Katrina had claimed much attention, this is the first time that a female lead in Salman's film is in such a limelight. Check the second teaser of "Sultan" below: