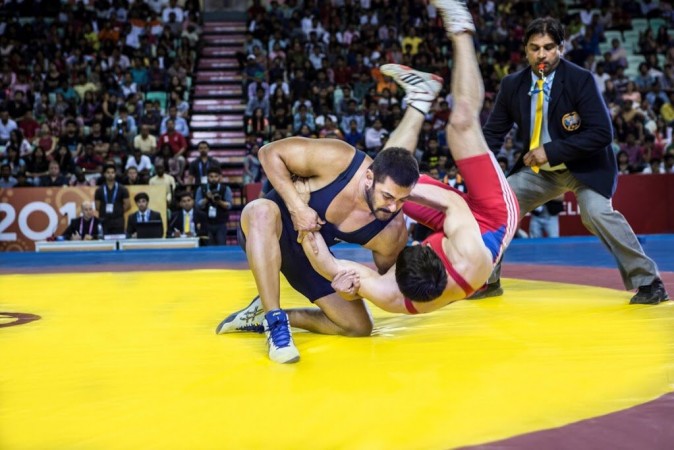 Salman Khan's Eid 2016 release, "Sultan" is breaking records at the box-office with people falling in love with his performance as a wrestler from Haryana. The film has got positive reviews from views, and critics have lauded the Salman Khan-Anushka Sharma pair and their Haryanvi dialect. It has has already earned more than Rs. 30 crore in the first three days of its release, creating a new record.
Anushka Sharma plays the role of Aarfa, who is a state-level wrestling champion aiming to win the Olympics for India, and Salman Khan as Sultan Ali Khan who tries to win over Aarfa by getting into wrestling.
While the transformation of Salman's character in the film is fascinating, from a 30-year-old man running behind kites to a person setting up a goal to become an Olympic gold medalist, later having his downfall only to realize the difference between confidence and arrogance, there are few things that you may have probably missed while watching the film.
The Hindu-Muslim Symbolism
Salman has never fallen short of signifying the Hindu-Muslim connection through his films. It was the biggest highlight of his Eid 2015 release "Bajrangi Bhaijaan," where he plays the role of a Brahmin boy who is a stern follower of Hanuman. Just moments after "Sultan" begins and the picture of Haryana, where Salman's character lives, is shown during the opening credits, we see a Muslim woman in Burka (a loose garment women use to cover their body from head to feet) walking with her son dressed as Lord Krishna. It is a clear picture of how once again a Salman's movie, in the most subtle way, brings together the two religions.
The typical Indian 2 minutes
When someone asks if you have two minutes in India, you are mentally prepared for more. In the movie, "Sultan", it took longer than an hour, when Amit Sadh's character Aakash Singh – a business man from Delhi who travels to Harayana to convince Sultan to start wrestling – meets Sultan's friend Govind (Anant Sharma) at a station asking for two minutes to talk about Sultan. The duration of two minutes ends up being an extended flashback of Sultan's life, his love and how the love of his life inspired him to become a wrestler who went on to win the gold medal in the Olympics.
The time sense of the movie is a little difficult to digest as it took only less than a year to train a non-wrestler to get an Olympic gold medal and just six weeks to train a Mixed Martial Arts style champion. But Salman can work the magic on screen and make it look real.
Sushil Kumar in Sultan?
All our eyes were set on Salman during the course of the movie, but if you glanced for a bit more, you will release a character in the movie that resembles the popular 33-year-old Olympic medal winner Sushil Kumar. The real-life wrestler played no role in Salman Khan's "Sultan," but a character in the film will definitely remind you of Sushil Kumar (may be a second or a third watch would help you notice).
A wrestler at Aarfa's father's wrestling camp bears a close resemblance to Sushil Kumar. He has been seen several times during the film, and even during the climax when Aarfa is in double minds when Sultan travels to New Delhi to participate in an MMA championship, PRO Take-down. Was it an intentional move by Ali Abbas Zafar, the director of "Sultan", or just a co-incidence? We'll ask him when we meet him.
Fallen kites have their favourite landing spot
During Sultan's training under his new coach (Randeep Hooda) in Delhi, there comes a point when everyone is concerned about how the 40-year-old will train if he can't catch up on his speed, which is essential to take down his international rivals in the PRO Take-down of mixed martial arts. That's when Sultan's friend Govind recalls about the former's swiftness while catching kites. We see Sultan's coach, Govind, and Aakash waiting to see Sultan rush to be the kite first, but unfortunately a big leap between two buildings becomes the hurdle. However, during the second try, the kite flies above the same areas and the same building from where Sultan had failed to make the jump. But this time he does not fail (Did you expect otherwise?).
Overall, "Sultan" is a complete family entertainer, and packs right doze of drama, action, emotions and comedy. Salman fans will enjoy every bit of his performance in the movie.