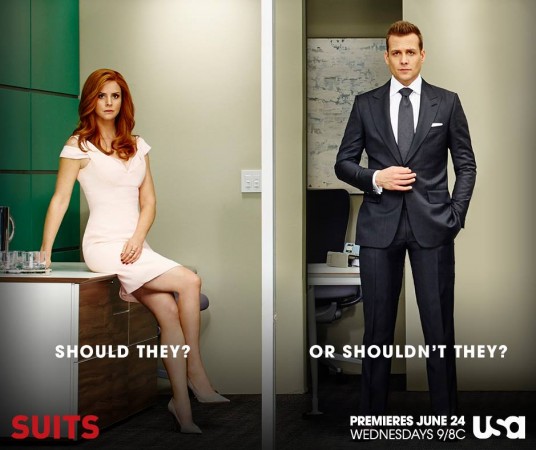 "Suits" Season 5 will premiere on Wednesday, 24 June, and with it, will unfold all the drama that followed Donna's decision to leave Harvey and work for his rival Louis. Rachel and Mike's relationship is also at a very crucial point, with the couple getting engaged in Season 4 finale, while Jessica is still reeling from her breakup with Jeff Malone.
Season 5 premiere will definitely focus on how Harvey deals with Donna's decision to move on. Judging by the title of episode 1, it seems Harvey (Gabriel Macht) is still in "Denial" about it and will reportedly be seen at his most vulnerable state.
Donna (Sarah Rafferty) and Louis' (Rick Hoffman) working dynamic will also be explored in the first episode. Although they have shared a great friendship in the past, Louis is convinced that at the end of the day, Donna will return to work for Harvey. Louis is worried that Donna might still have unresolved feelings for former boss Harvey, which might create tension in their work relationship.
While Harvey and Donna are going through a period of emotional turmoil, Rachel and Mike are in a great mood as they are engaged now. At any other point of time Harvey, his mentor, would have been the first person Mike (Patrick J. Adams) would share this news with, and Donna would have been Rachel's (Meghan Markle) confidante in the matter.
However, seeing the two unhappy and disturbed, Mike and Rachel may keep the news to themselves until the time is right.
Season 5 is expected to bring in a lot of changes in the lives of Pearson Specter Litt employees, fans will have to wait and see what they are, in the premiere episode, "Denial", on USA Today, at 9.00 pm (EST) on Wednesday, 24 June.