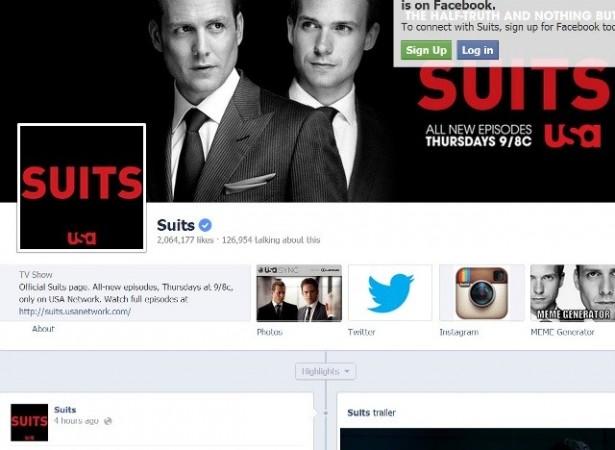 Season three finale of "Suits" had Mike informing Harvey that he is quitting the law firm to accept a job as an investment banker, leaving fans wondering how this will affect the duo's relationship.
Mike is still going to be a part of Harvey's life and their relationship is going to change into that of an employee-employer, as Mike will be a client of Pearson Specter. This is expected to cause a friction between the duo, and also in Mike's equation with Louis.
"It alters his relationships with everyone. For one thing, he's not illegally practicing law anymore so probably it's a huge burden off of his mind. Early on, there's going to be a twist in their [Harvey and Mike's] working relationship that will play out over the course of several episodes and most of that twist has to do with his relationship with Harvey, but also with Donna. … In Episode 4, he's got major Louis interaction, so yeah, it shakes things up," the show's executive producer Aaron Korsh told TVLine.
Regarding Mike's relationship with Rachel, Korsh said that although they are in a good place, now that Mike has left practicing law illegally, outside pressures will put a strain on their relationship.
Harvey too will be having a tough time, now that two of the most important people in his life – Mike and Scottie – have left him.
The finale saw Harvey confessing to Scottie about Mike's past because he did not want to keep any secrets from the one person he loves. However, they break up, and Korsh hinted that Scottie would not be making a return to the show anytime soon.
That leaves the door open for a bit of romance for Donna and Harvey, and the upcoming season will see their relationship progressing. However, Korsh is of the opinion that getting them together will harm the show at this point.
"Their relationship is always going to move forward in bits and starts, so to speak, and they're always going to have [to] be there for each other. Donna is definitely going to have a lot of things to say about Harvey's new place in the world now that Mike is gone," the executive producer said.
(Edited by Vanilla Sharma)