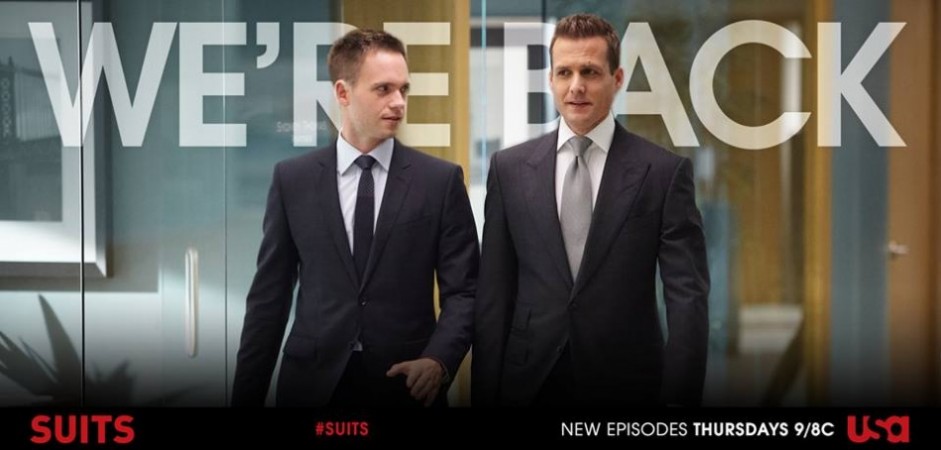 Season three summer finale of "Suits" left off with Louis Litt digging into Harvard's student record to find no mention of a Mike Ross. The cliffhanger had a number of fans guessing if Louis would find out the truth, and the series addresses the question when it returns for its midseason premiere on Thursday.
In the episode titled "Buried Secrets," Louis wonders about the missing file and comes to the conclusion that Mike's record is missing because it does not exist.
"What if he went to some third-tier law school?" Louis wonders, and divulges his doubts to Donna, who is aware of Mike's secrets. She instead convinces Louis to request Harvard to send him copy of Mike's transcripts.
Louis manages to get a copy of the transcript and is confused as to how Sheila, whose competence is her USP, could make a mistake in misplacing Mike's file. Louis also has a hard time believing Mike managed to score an A+ in a course, where the professor gives nothing higher than an A.
Will Louis finally find out that Mike never went to Harvard?
Sarah Rafferty, who plays Donna, told Buddy TV that the stakes are really high, and that there is a possibility of Mike landing in jail.
"You can imagine Donna's going to find out that Louis is on the trail, right? So she has to employ all her special Louis tactics to help protect Mike. Her sort of Louis diversion tactics to help protect Mike. It's not just protecting Mike, it's protecting everyone at this point. The stakes are really, really high," Rafferty said.
Although Donna informs Harvey that Louis is digging into Mike's past, Harvey does not consider it a threat now. But, future episodes will see Harvey trying to get Mike out of the trouble he has fallen into.
Mikes relationship with the people, who are aware of his secret is also going to change in the coming episodes.
"Obviously, his [Mike's] relationship with Louis is tested, but it has ramifications on Mike's relationship with Rachel, with Harvey and with Donna. I don't know that I would say that it tests Mike's relationship with these people, but it certainly affects this relationship with [them]," executive producer Aaron Korsh told Tvline.com.