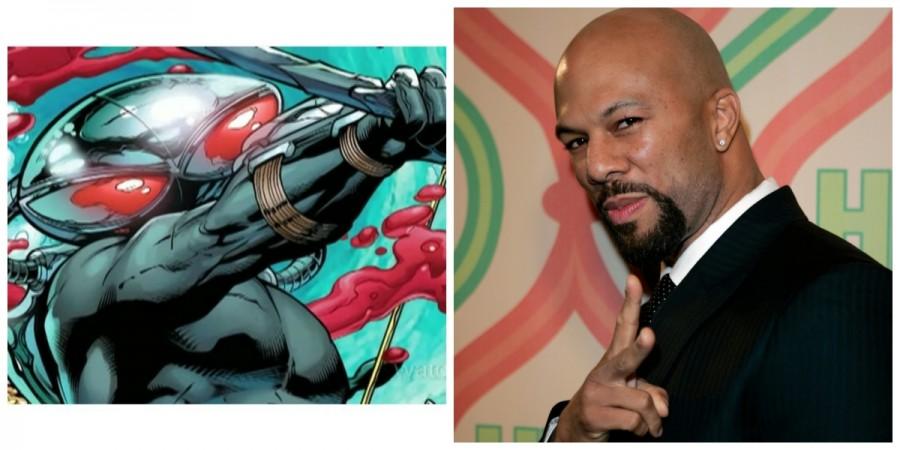 Ever since the announcement of "Suicide Squad", DC comics' fans have been speculating about all the super villains that will make an appearance in the 2016 film. While Will Smith's Deadshot, Jared Leto's Joker, Margot Robbie's Harley Quinn, Cara Delevigne's Enchantress and Jai Courtney's Captain Boomerang have been confirmed, roles of some actors who have been signed on to the film, remains undisclosed.
Rapper Common is one such star. After the announcement of his appearance in "Suicide Squad", many speculated that he would play the "Aquaman" (Jason Momoa) villain Black Manta. However, after seeing a set photo of Common, in which he is seen with Snake Bite Piercing, tattoos on his skull and forehead, and a nose-ring, few others like TMZ are claiming that he is in fact portraying Abel Tarrant aka the Tattooed Man.
Here are some key details regarding both DC super villains, which should help you choose if Common should play Black Manta or Tattooed Man in "Suicide Squad":
| | |
| --- | --- |
| Black Manta | Tattooed Man |
| Black Manta has been a nemesis to the Atlantis hero, Aquaman, since the beginning of his superhero life. | Abel Tarrant was a sailor, based in Coast City, who turned into burglary and went on to become a nemesis of Green Lantern. |
| An autistic Black boy, who was given an experimental serum, Manta is said to have acquired enhanced strength and endurance after the treatment, which also left him violent and vicious. | A member of the Injustice Gang, he has the power to make things materialise, by drawing exact outlines, which he did by drawing tattoos all over his body and face. |
| His costume primarily involves a black wetsuit with bug-eyed helmet, using which he shoots blasting rays. | He is generally dressed in a white wife-beater and jeans that keeps his tattoos exposed at all times. |
| For a while, Black Manta tricked people into believing that the objective of his war with Aquaman, was actually to make Atlantis a land for the black people who have been oppressed for so long on dry land. | Abel is capable of animating and controlling his tattoos simply by touching the region of his body where the tattoo is located. The effects only discontinue if he commands it, or if he gets incapacitated. |
| Black Manta accepts Amanda Waller 's offer to join the "Suicide Squad" and stayed in the Belle Reeve Prison before joining forces with Lex Luthor's Kyptonian clone, Black Adam, Black Manta, and Captain Cold to destroy the Crime Syndicate. | He became a member of the "Suicide Squad" saying that despite his attempts to reform, he had been unable to escape his past as a Super-Villain. |
Who do you think Common should play in 'Suicide Squad'?