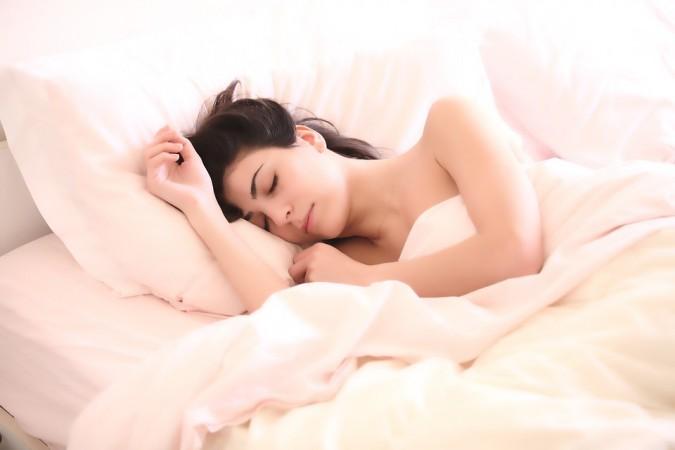 There are times when we stare blankly at the ceiling all night, willing to sleep but not being able to. There are a number of people who suffer from this condition for days or months.
However, a gadget known as Dodow has come to the rescue of all those insomniacs. A user who has struggled to get to sleep for most of her life, shared her experience with Daily Mail. "I've survived on just four or five hours a night, having taken almost as long as that to drift off," Libby Galvin, said.
Dodow is a small plastic disc which projects a blue ring that gently expands, casting a large, circular glow on the ceiling before contracting back to a pinprick of light, the report stated
"On the first night, I settle down early to watch the light on the ceiling. While I manage to relax and breathe deeply and slowly, I can't do it in time with the light and, when it automatically switches off after eight minutes, I am still wide awake," she said.
She tried again for some more nights but most of the time gave up and turned it off. She decided not to match her breaths to the pulses, and it started working better. After spending two weeks, she said: "I did twice fall asleep within eight minutes of settling down; incredibly unusual for me. In the morning, I feel refreshed and positive."
An independent sleep scientist, Dr Neil Stanley, expalins it this way: "You need three things to get to sleep. A bedroom that's designed for sleep — dark, quiet, cool, comfortable; a relaxed body and a quiet mind. The quiet mind is key."
To achieve the quiet mind, some people practise meditation or meditative breathing. This gadget helps people who don't sleep, but insomnia is a medical condition that should be diagnosed by a doctor and this is not a treatment for true insomnia, said Stanley.
On the Dodow website, there are plenty of users who have reported positive results after spending £44 for the gadget. But, there's no doubt that learning meditative breathing can help you achieve a healthy slumber.