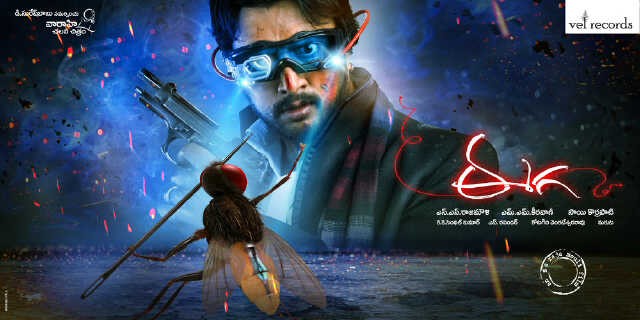 Director S S Rajamouli's film "Eega", which received accolades nationally, is going international now.
"Eega" will be screened at the Cannes Film Market (Marché du Film) on 20 May. The Marché du Film is one of the largest film markets in the world and is also the business counterpart of the Cannes Film Festival, which begins on 15 May and runs through 26 May.
The Sudeep-Nani starrer will be screened in a bid to attract international distributors. The romantic, fantasy-fiction film, which was shot simultaneously in Tamil (Naan Ee) and Telugu has bagged awards in key Indian award ceremonies. The film won two national awards - Best Film (Telugu) and Best Special effects - for the year 2012.
"Eega" also bagged B. Nagi Reddy Award 2012 for best wholesome entertainment Telugu film. The flick was dubbed in different Indian languages such as "Eecha" in Malayalam and "Makhi" in Hindi. It won laurels at various international film festivals including L'Étrange film festival and the Sundance film festival. Now, it will be shown at Cannes along with several other Indian films.
It is not known if anybody from the film's crew will be taking part in the event. However, producer Shobu Yarlagadda tweeted that he would be attending the festival. "Going to attend Cannes Film Festival and the Film Market. First time going to any festival. Will check out what's it all about! Excited!" Yarlagadda tweeted on his twitter page.
"We are also screening #Eega in the Cannes Film Market (March Du Film) on the 20th!!"
Every year, a host of Indian celebrities fly to Cannes either to promote their films or as brand ambassadors of various products. This year's festival is special for India, as Cannes would be paying homage to 100 years of Indian cinema.
A large delegation of film stars and prominent personalities including Amitabh Bachchan, Aishwarya Rai, Rajinikanth, Karan Johar, Ameesha Patel, Sonam Kapoor and Vidya Balan will be attending the festival.
"Eega" is the latest to join a string of Indian films to be shown at Cannes. "Bombay Talkies", which has four short stories directed by Anurag Kashyap, Zoya Akhtar, Karan Johar and Dibaker Banerjee will be premiered at the film carnival. The trailer of Rajininkanth's "Kochadaiyaan" will also be launched.
Kashyap's "Ugly" has been selected to be screened at Directors' Fortnight, a parallel section of Cannes Film Festival. Two other films with which Kashyap is associated (he is the co-producer) - "Dabba" (Lunchbox) and "Monsoon Shootout" - have been selected for Cannes Critics Week and Midnight Screening sections, respectively.