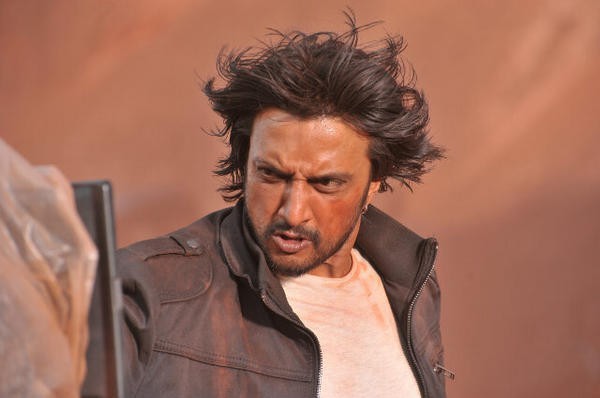 Kannada actor Sudeep, who was highly praised for his antagonist role in the 2012 Telugu film "Eega" may be cast as a villain in a Rajinikanth movie, according to The Times Of India.
Word is out that it is superstar Rajinikanth who suggested Sudeep's name for his next movie which will be directed by KS Ravikumar. The movie is likely to be produced by famous Kannada film producer Venkatesh alias Rockline Venkatesh.
In the past, when "Eega" released in theatres in Tamil Nadu as "Naan Ee," Rajinikanth was full of praises for Sudeep's performance in the movie. Rajinikanth compared Sudeep's villainous role with his role in "Enthiran" and said that Sudeep is a better villain than him, according to TOI.
When Sudeep heard of this appreciation from the superstar, he was overwhelmed. "His good words were bigger than winning Oscars," Sudeep told TOI. The 40-year-old Sudeep won many awards for his performance as a negative role in "Eega."
Sudeep is currently shooting for his upcoming Kannada movie "Maanikya," which is remake of the Telugu film "Mirchi." The Kannada version which stars Sudeep in the lead role will be directed by him. "Maanikya" will also star famous Kannada actor V Ravichandran.
Apart from this project, Sudeep has a handful of projects in Tamil, Telugu and Kannada. Judging from the list of films he has signed, it looks like the actor will have a tight schedule till 2015.
There has not been any formal announcement about Sudeep and Rajinikanth coming together in a movie, but fans are already excited about this news. "I am a huge fan of Rajinikanth and I also like Sudeep's acting. Hearing that the two will be seen in one movie is big news for me. I hope this comes true. Looking forward to see "Kiccha" Sudeep as a villain again," said Pavan K. Pateel, a fan of Rajinikanth and Sudeep.
(Edited by Anu James)