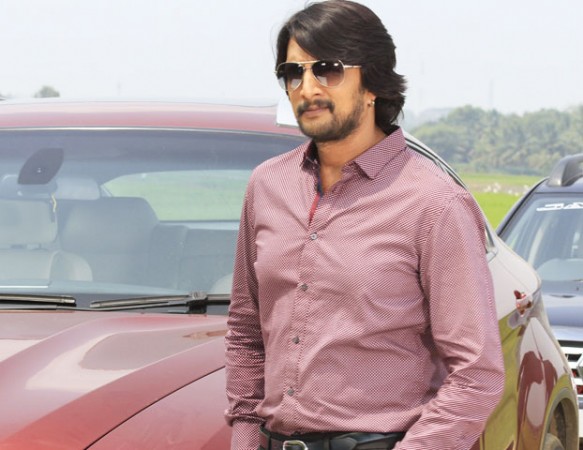 Kiccha Sudeep has become the Bangalore Times' Most Desirable Man of 2015. He has beaten stars like Puneeth Rajkumar, Yash, Upendra and many others, including former cricketer Rahul Dravid.
This is the third time that Sudeep has won the title, after topping the list in 2012 and 2014. The actor took the second place in 2013.
Kiccha Sudeep was seen only in one movie in 2015 â€""Puli" â€" in which he played a negative role. Now the actor, who recently completed his forthcoming movie "Mukunda Murari," is getting ready to start his delayed project "Hebbuli," which stars Amala Paul in the female lead role.
Coming back to the list of top 25 Most Desirable Men of 2015, Yash â€" who had won the title in 2013 and secured the third place in 2014 â€" is in the second position this year. Budding actor Dhananjay, who made his acting debut in Guruprasad's "Director's Special," has taken the third spot.
Powerstar Puneeth Rajkumar is fourth, while former Indian cricket captain Rahul Dravid is in the fifth place. Crickter Manish Pandey, Diganth, Sri Murali, Rakshit Shetty and Chandan Kumar of "Bigg Boss 3" Kannada fame are in the next five positions, respectively.
| | | | |
| --- | --- | --- | --- |
| Rank in 2015 | Name | Rank in 2014 | Rank in 2013 |
| 1 | Sudeep | 1 | 2 |
| 2 | Yash | 3 | 1 |
| 3 | Dhananjaya | 4 | - |
| 4 | Puneeth Rajkumar | 11 | 10 |
| 5 | Rahul Dravid | 6 | 4 |
| 6 | Manish Pandey | 15 | 15 |
| 7 | Diganth | 5 | 3 |
| 8 | Sriimurali | - | - |
| 9 | Rakshit Shetty | - | 20 |
| 10 | Chandan | - | - |
| 11 | Darshan | 19 | 18 |
| 12 | Suraj Gowda | - | - |
| 13 | Prateek Jain | 2 | - |
| 14 | Upendra | 13 | 11 |
| 15 | J Karthik | 14 | 16 |
| 16 | Rahul Rajashekaran Nair | - | - |
| 17 | Avinash Narasimharaju | - | - |
| 18 | Rahul RK | - | - |
| 19 | Nirup Bhandari | - | - |
| 20 | Gurunandan | - | - |
| 21 | Srujan Lokesh | - | - |
| 22 | Vijay Suriya | - | - |
| 23 | Raghu Mukherjee | 18 | 19 |
| 24 | Robin Uthappa | - | 22 |
| 25 | NC Aiyappa | 24 | - |