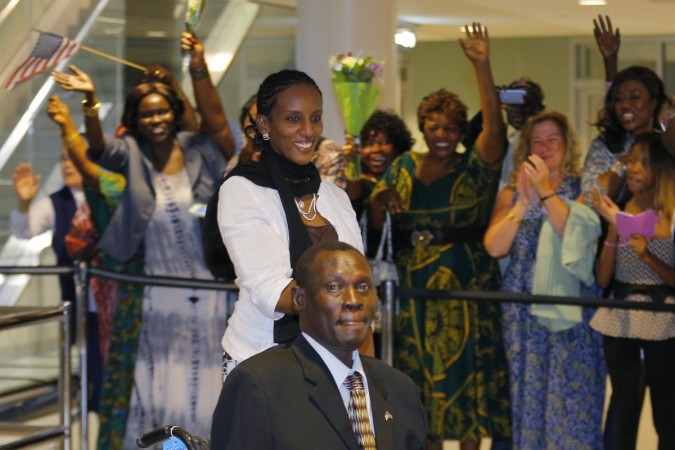 A Sudanese woman, who was sentenced to death for refusing to renounce her Christian faith, has arrived in the United States after a flight from Rome.
Meriam Ibrahim, who was given a death sentence for apostasy in Sudan, was welcome by Philadelphia's mayor, Michael Nutter, as a "world freedom fighter" and later by cheering supporters who welcomed the woman waving US flags in New Hampshire.
Ibrahim arrived in the US after visiting Rome, where she met with the Pope who reportedly appreciated her for standing by her faith. Her arrival brought an end to an 18-month ordeal during which she was denounced for having abandoned Islam – a taboo in countries such as Sudan.
Ibrahim was given death sentence earlier in May and was forced to give birth to her child while being shackled inside a Sudanese prison – an event that sparked an international outcry with people from across the world calling for her release.
Wearing a white cardigan, black and white flowing dress and catching hold of a bouquet of flower, the woman – who has now sought to be a symbol of world freedom – spoke briefly to supporters who gathered in the airport arrival.
Ibrahim's husband, Daniel Wani, had previously lived in New Hampshire, where many Sudanese refuges have been granted asylum. He was granted the US citizenship after he fled to the US as a child fleeing a civil war, but he later returned and became a citizen of South Sudan.
Sudan had initially blocked Ibrahim from leaving the country even after its highest court overturned her death sentence in June. The family, at one point even took refuge at the US embassy in Kartoum.
Ibrahim's father was Muslim while her mother was an Orthodox Christian. She married Wani from southern Sudan, who is a Christian, in 2011.
It wasn't long before she was charged with apostasy as Muslim woman in Sudan are prohibited to marry non-Muslims. And since her father was a Muslim, by law, she was supposed to follow her father's religion.
As he arrived at her husband's home town, Maria Ajangm one of Ibrahim's supporters, struggled to control her emotions when she described the reunion.
"She was smiling, talking to everybody. She said 'I am so happy to see you guys. It is so nice here'," the supporter was quoted by Telegraph as saying.
"I was crying, but she said 'don't cry, I am here now'".