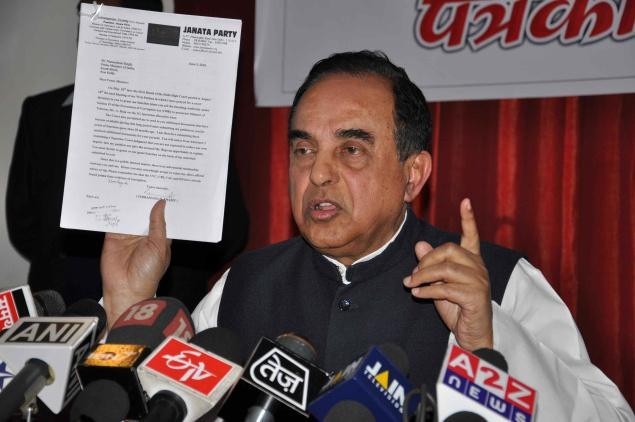 Wikileaks has released an electronic telegram sent in 1977 that contains classified information about late Congress party president Indira Gandhi and her political strategies.
The website, known for leaking classified information, has cited former Rajya Sabha member Subramanian Swamy as the source who revealed to a US department officer that Indira is set to declare elections in March, in view of her failing health.
"Subramanian Swamy suggested to department officer then days ago that the heard Mrs. Gandhi was prompted to set the March election date because she wanted to square things away in view of her 'failing health'," read the classified mail.
The confidential cable, dated 3 February 1977, was sent by the Bureau of Near Eastern and South Asian Affairs to the US State Department. The cable, however, neither identified the US officer who had met Swamy nor stated where the meeting had taken place.
WikiLeaks circulated the cable through a tweet, which was later posted on various social networking sites. The cable further noted that Newsweek magazine had run a report that week, saying Indira had "terminal cancer" and her surprise decision to schedule an election quickly "was a way to assure the quick succession" of her son Sanjay Gandhi in the "next 60-90 days".
The news has created a big stir in social media, with many dubbing Swamy as a 'CIA Agent'.
(Ed: VP)
Subramanian Swamy revealed 'Election info' of 1977 to CIA: #WikiLeaks Now who is CIA agent? @aartic02 #SwamyLeaks http://t.co/BffYccRpFS

— Nitin Sinha (@NsNitinsinha) April 26, 2014
#SwamyLeaks Wikileaks discloses BJP monster Subramaniam Swamy was CIA agent during PM Indira Gandhi's tenure. Arrest @Swamy39 mole imdtly — Aashish Rishee (@AashishRishee) April 26, 2014
@AashishRishee @DensiDj People think he was an AGENT,even now he is an agent only ,who said he retired ,he has always been one #SwamyLeaks

— ARASAN (@Arasan0001) April 26, 2014
The heavy poisonous insect in our india is @Swamy39 yet again proved through wikileaks #SwamyLeaks — Ranjith Singh (@ranjithsingh_s) April 26, 2014
Dear Mr Jha, How 'CIA Agent' Subramanian Swamy Can Be An 'Ultranationalist' Too? http://t.co/mXgdbULr34 #SwamyLeaks

— Loud Frog (@iwsloudfrog) April 26, 2014