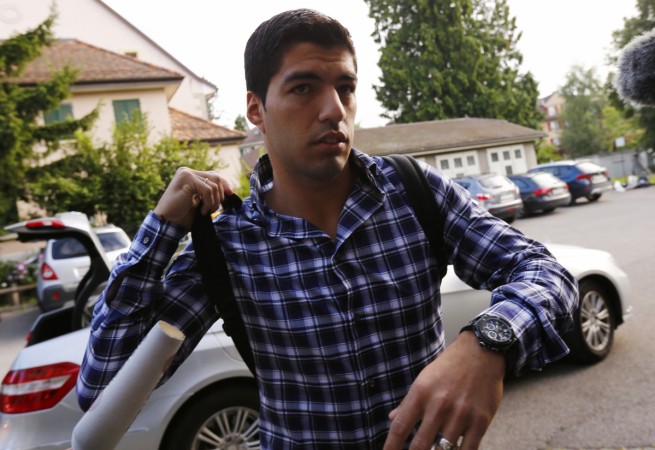 Luis Suarez's lawyers are certain that they will be able to decrease the Uruguayan's heavy ban as they prepare to appear before the Court of Arbitration in Lausanne, Switzerland on 8 August.
The 27-year-old striker, who recently completed a £75 million switch from Liverpool to Barcelona, has been handed a nine-match international suspension as well as a four-month ban from all football-related activities by FIFA after he was found guilty of biting Italy's Giorgio Chiellini at the 2014 World Cup.
Though he pleaded his innocence earlier, claiming the whole incident was an accident, FIFA dismissed his pleas, choosing to stand by their original verdict.
In the end, Suarez, who issued an apology to the Italian defender, insisting he will never repeat it in the future, decided to take his case to the Court of Arbitration.
Suarez's lawyers, who have already travelled to CAS headquarters in Lausanne, Switzerland, reportedly want the ban to be limited only to international football.
However, as that looks unlikely, the Uruguayan's legal team are working at reducing Suarez's ban to two months. Also, they are hoping to overturn their client's four-month ban from all "football-related activities", so that he can train with his new team, Barcelona.
Suarez's lawyer Alejandro Balbi says that his legal team have a better chance of reducing his client's four-month ban from all "football-related activities" rather than the nine-match international suspension.
"It would be more logical to reduce the sanction by a few months than to reduce the ban concerning international games, because legally it's easier to contend against the terms of the suspension that forbid him from training and from being at the club, because they violate fundamental rights," Sky News quoted Balbi as saying.
"The other ban (the nine-match ban for Uruguay) is more a question of the level of the punishment."
Balbi has also dismissed rumours that lawyers from Barcelona will be representing Suarez at the CAS, insisting that the Catalan club's legal team have just been consulting with the Uruguayan Football Association.
"In Spain they are saying that the lawyer who represents him at CAS will be sent by Barcelona, but that's not the case, Barcelona's lawyer is just consulting with the Uruguayan Football Association," added Balbi.
"It is clear that Uruguay are interested in reducing the penalty imposed on Luis by the number of matches while Barcelona want to reduce the sentence by a number of months."