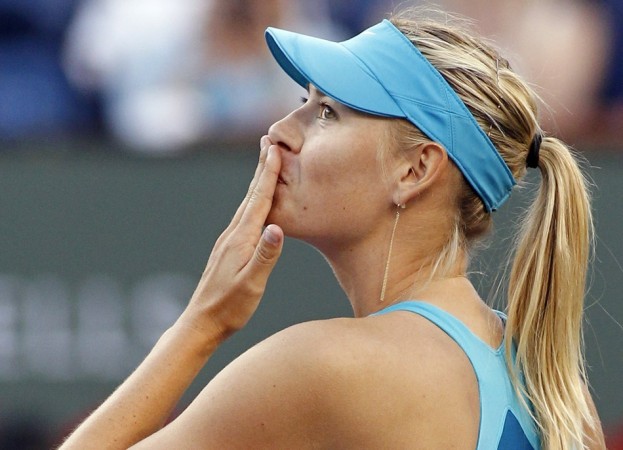 Two-time defending champion Maria Sharapova will face Ana Ivanovic in the Stuttgart final after having brushed aside Italy's Sara Errani 6-1, 6-2 in Saturday's semifinal.
The Russian hasn't had the ideal of starts this season after early exits in Australian Open and Indian Wells. A victory here would mean she'd have three straight titles, but to see off the clay-court specialist in Errani was quiet challenging according to Sharapova herself. The match was more of a repeat of the 2012 French Open final which was also won by Sharapova.
Where to Watch Live
The singles final Maria Sharapova vs Ana Ivanovic starts at 2.00 pm local time (5.30 pm IST). The doubles final Sania Mirza - Cara Black vs Sara Errani - Roberta Vinci starts at 4.00 pm local time (7.30 pm IST). Global viewers can stream the live action HERE and HERE. In India, the live coverage will be on Ten HD.
"The further you go in the tournament, the harder it gets, and I really wanted to step up today [Saturday] and produce a good performance," Sharapova said after the semifinal clash. "The first tournament on clay is always tough - it's important to improve with each match and I think I've done that this week.
"I know how good Sara is on the surface and I was extra ready to perform against her. She has a lot of experience and really knows how to play, so I had to take care of things on my side of the net."
Ivanovic too, had no problems defeating fellow Serb Jelena Jankovic in straight sets to face a fellow former world no. 1 on Sunday in the final.
The Serb finalist has a tough challenge ahead with Sharapova on a 12 match winning streak at the tournament. Also, Ivanovic is down 2-7 to the Russian in career meetings and lost all six encounters in a row before this one - including the last three in a row on clay.
"It's definitely going to be a very tough match - I don't think she's ever lost a match here," Ivanovic said. "She loves this tournament, and hopefully it will be a great match like we had here last year."
Last year, the two met in the quarterfinals which turned out to be a thriller won by Sharapova.
In doubles finals, India's Sania Mirza and her Zimbabwean partner Cara Black will face Italian top seeds Sara Errani and Roberta Vinci on Sunday.
The second-seeded Indo-Zimbabwean pair will look to win their first title this season after having made it to the finals at Indian Wells last month.
(Ed: AJ)