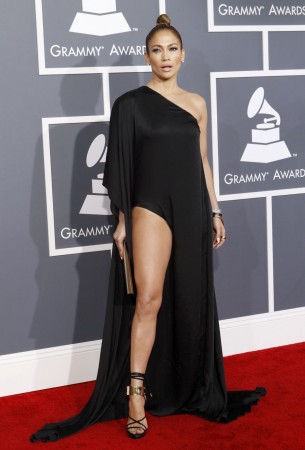 The Grammy Awards 2013 event on Sunday saw plenty of skin show despite the strict dress code that CBS had issued to prevent any incidental wardrobe malfunctions on the red carpet.
[PHOTOS OF GLAMOROUS CELEBRITIES AT GRAMMYS 2013 RED CARPET]
CBS, the broadcaster of the Grammy Awards 2013, had released a wardrobe directive to all celebrities attending the event, asking them to avoid wearing see-through material, thong-type costumes and outfits that expose private body parts.
This year's Grammys was not much different from the previous years as far as fashion is concerned. Ignoring the wardrobe memo, several celebrities paraded on the red carpet walk in outfits that showed lots of skin.
Singer and actress Jennifer Lopez was the centre of attraction at the 2000 Grammy Awards. Her see-through green outfit that exposed her cleavage down to her navel remains to be one the most memorable moments of the red carpet. The black Anthony Vaccarello dress she wore on Sunday was no less shocking, with its huge slit giving a complete view of her right thigh.
Katy Perry's outfit gave a good view of her cleavage, while Kelly Rowland revealed lots of skin through her see-through striped gown. Several other celebrities oozed their sex appeal on the red carpet with racy outfits.
Awards were handed to the winners at the 55th Annual Grammy Awards ceremony held at the Staples Center, Los Angeles, on Sunday night.
British band Mumford & Sons took home the 'Album of the Year' award for 'Babel' at the 55th annual Grammy Awards ceremony. The Black Keys' singer Dan Auerbach walked away with five trophies, including producer of the year award.
The Grammy Awards 2013 saw an array of younger generation artistes like Gotye, Frank Ocean, Akron, Black Keys, and Fun. bagging the coveted trophies.
Indian sitar legend Ravi Shankar won the best world music album award for "The Living Room Sessions Part 1" sixty days after his death. He was also honoured with the Lifetime Achievement award posthumously. His daughter Anoushka Shankar, who was also nominated in the same category for her album "Traveller", accepted the award on her father's behalf.
Hosted by LL Cool J, the event had some of the biggest names in the music industry performing on stage. Among those giving out electrifying stage performances were Miranda Lambert, Dierks Bentley, Rihanna, Mumford & Sons, Black Keys, New Orleans, Alicia Keys, Adam Levine, Bruno Mars and Kelly Clarkson.
[PHOTOS OF GLAMOROUS CELEBRITIES AT GRAMMYS 2013 RED CARPET]