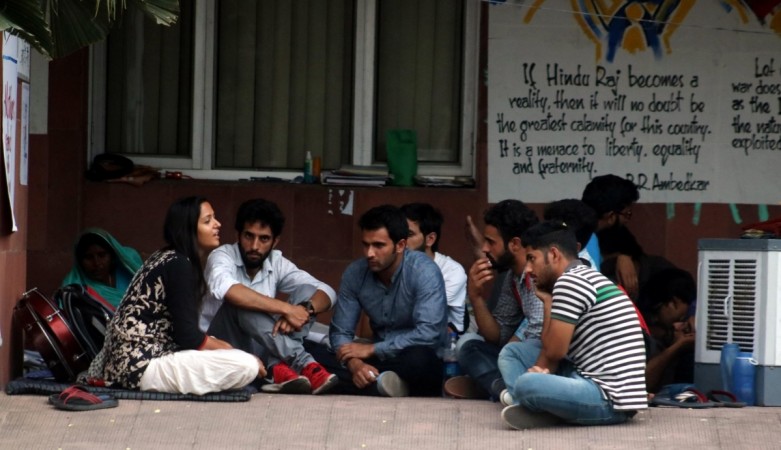 A Manipuri student was found dead in his hostel room in the Jawaharlal Nehru University (JNU) campus late on Tuesday night.
R Philemon Raja was a PhD student at the school of international studies in the University. He was found dead under mysterious circumstance in his room at the Brahmaputra hostel.
The security was alerted after hostel students detected a foul smell emanating from the room. The students tried to open the window of the room and saw Raja lying on the floor face down.
The authorities subsequently alerted the police. They broke open the door and found Raja dead. The police said that the student had locked himself inside the room for the past three days.
The student's body was decomposed beyond recognition, they added. However, prima facie there were no visible signs of injury. Preliminary investigations have not ruled out the possibility of suicide, and the authorities have sent the body for an autopsy at the All India Institute of Medical Sciences (AIIMS), according to TOI.
The police said that the student belonged to Manipur and was residing in room number 171. Raja had joined the university a year ago. The Delhi Police North East Cell has informed his family members, who live in Senapati district of Manipur.
JNU is witnessing massive protests ever since a student, Najeeb Ahmed, went missing after an alleged brawl in his hostel. Ahmad, a first-year MSc student, has been missing since October 15. Hundreds of students are protesting in the campus against the University's inaction over the missing student.
Union Home Minister Rajnath Singh recently intervened in the fracas after around 200 students confined JNU Vice Chancellor M Jagadesh Kumar in his office for over 20 hours last week. Singh ordered Delhi Police Commissioner Alok Verma to formulate a Special Investigation Team to trace Ahmed.