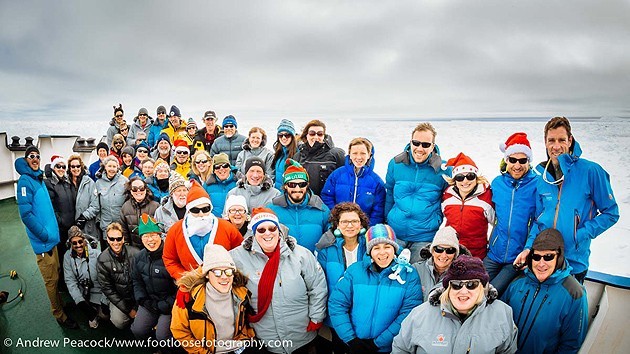 After passengers onboard the Russian vessel, Shokalskiy were forced to celebrate Christmas stranded in Antarctica, looks like New Year's celebration too will be a similar affair.
Rescue still looks far from reaching the stranded passengers, as Chinese icebreaker ship, the Snow Dragon that was on its way to rescue the Russian science ship trapped in Antarctica has found itself stuck barely 6.1 nautical miles away from the other vessel.
The Chinese icebreaker Xuelong since Friday midnight is waiting for better weather to reach the stranded Russian vessel.
The Finnish-built MV Akademik Shokalskiy got stuck in Antarctica on Tuesday with 48 passengers and around 20 crew members on board. The Russian scientific research vessel has 26 tourist passengers along with the scientists onboard.
The Chinese local daily Xinhua reported that the commander of the Chinese icebreaker has informed that his vessel was within reach of the Russian ship but "since the ice" exceeded the ice breaking capabilities of Snow Dragon, the rescue plan will have to be stalled till the weather improves.
Wang Jianzhong, captain of Xuelong also has informed that the icy conditions in Antarctica have worsened due to the cyclonic weather.
Another French icebreaker Astrolable was also on its way to rescue the Russian vessel, but due to extreme weather, its main engine developed a glitch, which requires more time to fix.
In the meantime, the Chinese vessel is trying to establish communication with the Russian ship. The icebreaker has a helicopter but it can't be put to use as the "weather is risky for taking up a rescue operation without jeopardizing the lives of others," Commander Wang informed.
The Antarctica expedition is being led by Chris Turney, a "climate scientist", who said on Twitter that the spirits of the 54 people on board were high and that he hoped to complete the voyage once the ship was freed. "Sorry to report the Snow Dragon couldn't get through but standing by for other vessel to help," Turney tweeted.
"Still here! All well. -1degC. #spiritofmawson," he added in his recent tweet.
The team on the Russian vessel had left from New Zealand in November to update records that Australian polar explorer Douglas Mawson made 100 years ago.