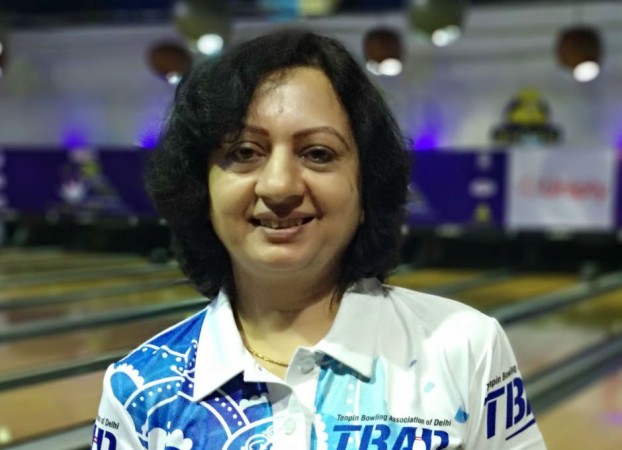 of Delhi topped the table in the women's category, with total pinfall of 1083 on Day 3 (Thursday, February 8) of the 28th National Tenpin Bowling Championships, currently underway at Amoeba, Church Street in Bengaluru.
Playing her first block of six games in Round 1 on Long oil conditions Anuradha started the day with score of 176 followed it up with scores of 177, 180, 188, 162 and 200 in the next five games and finished the day with total pinfall of 1083 at an average of 180.50.
Defending national champion Sumathi Nallabantu (Telangana) is currently placed second with total pinfall of 1035. Sumathi who was leading the table at the end of Game 4 surrendered the lead to Anuradha with a low game of 126 in Game 5.
She bounced back with a high game of 202 in Game 6, but was still trialing Anuradha by 48 pins at the end of first block of six Games.
Geetha Poojary of Karnataka scored 172, 139, 150, 146 and 177 in the first give games and scored 222 in Game 6 to finish in third position.
Anukriti Bishnoi (993) of Haryana is in fourth position.
Akaash Ashok Kumar consolidates top spot
In men's category, at the end of Round 1, top 40 bowlers, ranked based on total pinfall of 12 games moved to Round 2, which include 14 Bowlers from TamilNadu and 11 Bowlers from Karnataka and three each from Delhi and Telangana, and two each from Maharashtra, and one each from West Bengal, Gujarat, Kerala, Goa and Haryana.
Akaash Ashok Kumar (KAR) consolidated his lead over other competitors. Akaash is leading the table with total pinfall of 2567 at an average of 213.92 in 12 games and he is leading second-placed defending champion Dhruv Sarda (2438) by 129 pins.
Parvez Ahmed (KAR) is in third position with total pinfall of 2346. In the women's category, all bowlers will bowl second block of six games as part of Round 1, tomorrow morning and in the men's category, in Round 2, all 40 bowlers will bowl their 2nd block of 6 games on Medium oil.